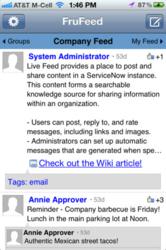 FruFeed provides instant access to realtime social collaboration in ServiceNow on your iOS device.
Chicago, IL (PRWEB) May 07, 2012
Fruition Partners, the leader in cloud-based Service Management solutions, today announced the launch of their mobility practice and the first native iOS application for ServiceNow - "FruFeed". The release comes immediately prior to the ServiceNow Knowledge12 user conference in New Orleans, LA.
With the FruFeed release, mobile developers at Fruition Partners are amplifying the social IT capability of ServiceNow's Live Feed, providing quick access to the social conversation on the go via a native solution on the iPhone and iPad. FruFeed is an all-inclusive iPhone version of Live Feed for the enterprise. For a limited time, the iOS app is free to customers of the Apple App Store. Customers log in to their ServiceNow instance of choice with their existing credentials to gain access to all of the real time collaboration functionality native to ServiceNow.
Marc Talluto, CEO of Fruition Partners, is excited about the potential represented by this application. "At Fruition we believe that the value of our team is vastly accelerated by their ability to share knowledge with each other in real time. Who knows where you will be when you have that key insight that will help your teammates around the globe? We're all tied to our mobile devices- it's time to make that valuable to your IT organization. FruFeed brings this real-time, anywhere goes philosophy to your day-to-day work."
"As companies adopt the social enterprise via ServiceNow, they will be at the forefront of an evolution in service management as they take advantage of a growing cloud powered remote workforce. IT Delivery managers will need to empower mobile support teams to keep up with the pace of change in today's organizations" said Chris Dauw, Director of Platform Development for Fruition Partners. "In the future you won't type, at systems- you'll talk to them. We've enabled this directly into our application. If you are in the field and need support or want to give feedback on the Live Feed app, click a button to speak your feedback. The message is sent directly to our development team for review."
Dan Dubay, director of Managed Services for Fruition, sees the FruFeed app as a new way to keep in touch with Fruition's customers. "We already have customers calling in, and opening tickets on our ServiceNow instance. But it's exciting to give our clients access to our internal conversation- the Fruition live feed is the secret ingredient of our ServiceNow practice. FruFeed makes it possible for our customers to ask simple questions of our entire development staff, and get answers in real time. We're determined to make the most of this mobile capability."
About Fruition Partners
Fruition Partners stands at the nexus of cloud strategy, service management expertise, and ServiceNow thought leadership. As a premier partner of ServiceNow for over 3 years, Fruition consultants are deeply experienced in practical ITIL implementations, process design and ServiceNow automation. With over a decade of experience, over a hundred cloud experts and more than 200 ServiceNow implementations completed, Fruition will help you harness the power of the cloud.
Stay connected at fruitionpartners.com , Facebook, Twitter and LinkedIn.