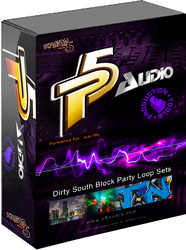 Continuing with our recent motto 'Out with the Old and In with the New', we're thrilled to bring the music production world new samples that will rock their world
Los Angeles, CA (PRWEB) September 10, 2009
P5Audio.com, an online leader in royalty free music sample sounds, continues their major update to their product catalog with music samples for fruity loops, Sony Acid Pro and Reason Refills that are hotter than ever. The new sample sounds in this exciting product update blitz are Dirty South Block Party Loop Sets, Scorchin Piano Loops and Scorchin Piano Licks - all available now for instant download.
"Continuing with our recent motto 'Out with the Old and In with the New', we're thrilled to bring the music production world new samples that will rock their world," states David Whiteside, President of P5Audio. "We continue to clean house here at P5Audio - and are handing off some of our old music sample inventory to make room for hotter, more current sounds. We know the high quality our clients have come to expect from P5Audio so we've spent our time recently recording new music samples that are incredibly hot!"
All P5Audio Loops come preformatted for WAV, REX, and Apple Loop formats. They can be used in Fruity Loops, Sony Acid Pro and as Reason Refills or in any software that accepts WAV file format.
New music loops product launch includes:
Dirty South Block Party Loop Sets:

Features 25 multi-tracked Dirty South Hip Hop loops, over 300 individual music loops total
The inspiration for these music loops is straight from the hit tracks of Young Jeezy, Pitbull, LMFAO, Trick Daddy and David Banner
All parts are separated (including Fat signature synths, Bass, Guitar, Keys, Brass, Kick, Snare, Claps, Hats and percussion) for mixing and matching to get the music production's perfect unique sound
All tempos and key signatures are included for ease of use
Scorchin Piano Loops and Scorchin Piano Licks:
Scorchin Piano loops contains 152 Piano Loops in ten popular hip hop tempos
These music loops are inspired by all of the recent billboard hits of mega producers Dr. Dre and Scott Storch
These live Piano Loops will bring musicality and respect to any beat
Recorded on an Amazing Live Grand Piano through class A microphones, Apogee converters and Avalon and Neve Preamps
Scorchin Piano Licks as nearly 900 Licks and chops in 10 popular hip hop tempos - all formatted for any software samplers including Kontakt, Battery, EXS-24, Halion, Sampletank, and NNXT
Key signature and tempo are provided for each music loop
"While the rest of the world is on a Euro-Dance music trend, Dre continues to use live instruments," continues Whiteside. "His Piano is legendary for its sound, and Scott Storch has been his right hand man all along. We are delivering you the same rich Grand Piano sound so that you too can have that Dre Sound to your Piano beats!"
For more information on these new music samples now available for Instant Download:
Contact: David Whiteside
Visit: P5Audio Music Loops & Sample Sounds
Phone: 1-888-884-8838
About P5Audio:
P5 Audio, leader in music sample sounds and loops, is committed to delivering professional products for the modern music producer - offering multi track music loops and sample downloads, hip hop samples, music loops and sample sounds for fruity loops, garage band loops, acid pro, rock beats and drum loops - ready to use in all major software sampler formats, as well as all music hardware samplers. 100% Royalty Free and available for Instant Download.
###