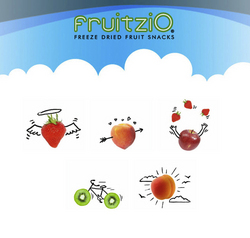 Fairfield, NJ (PRWEB) September 16, 2010
Crispy Green Inc., the maker of Crispy Green® premium Crispy Fruit and FruitziO® freeze-dried fruit snacks, is celebrating the one year anniversary of its new FruitziO fruit snacks and is offering its fans the chance to name their favorite FruitziO character by entering the FruitziO Naming Contest.
Crispy Green created FruitziO as a fun and delicious way to add more fruit into the daily diet and debuted its first flavor, Strawberries, last summer. Since then, Apples & Strawberries, Apricots and Peaches have been added to its growing family of natural, wholesome and irresistible FruitziO product line. This fall, Crispy Green will be introducing their latest FruitziO flavor - Kiwi.
FruitziO are freeze-dried fruit snacks with character. Each of our FrutiziO flavors is represented by a playful illustrated character of the fruit. Crispy Green would like to give each character its own unique name and is offering Crispy Green fans the opportunity to show their creativity by participating in the FruitziO Naming Contest for chance to win a $200 cash prize and more.
Here's how the FruitziO Character Naming Contest works:
Beginning on September 16, 2010, Crispy Green is giving its fans a chance to submit names for each of the five FruitziO characters at http://www.crispygreen.com/fruitzio-contest.html. These characters are: Apples & Strawberries (apple juggling strawberries), Apricots (sun), Kiwi (bicycle), Peaches (cupid's heart) and Strawberries (angel). The deadline for all submissions is November 16, 2010.
Crispy Green and a panel of judges, which includes The Product Pasha and Mogul Baby blogs, will review the submissions and select the top five names for each character based on a set of criteria, which includes originality and creative interpretation of character. The top five candidates of each character name will be posted on http://www.crispygreen.com/fruitzio-contest.html for public voting. The name that receives the most votes will be the winner.
Crispy Green will name one winner for each FruitziO character. All five winners will be announced on December 15, 2010 and be notified via e-mail. The contestants who submit the winning entries will each receive a $200 cash prize and case of FruitziO the flavor of their choice. All other finalists will receive a case of FruitziO the flavor of their choice.
The contest is open to all residents of the U.S. age 18 and over or minors with parental consent. Non-U.S. residents can participate in the contest; however, the winning prize for non-U.S. residents will be limited. Complete FruitziO Character naming Contest rules are available at http://www.crispygreen.com/fruitzio-contest.html.
"We are thrilled to celebrate our one year anniversary of the FruitziO product line by giving our fans the opportunity to name those playful FruitziO characters. We had a lot of fun developing this contest and hope that our fans will feel the same with their participation. I very much look forward to seeing the creative names that our fans will come up with for each FruitziO character," says Angela Liu, Founder and President of Crispy Green.
FruitziO can be found in the produce and grocery aisles of many leading supermarkets such as Acme, Diebergs, Earth Fare, The Fresh Market, Heinens, Kings, Market District, Shop Rite, Ukrops and Whole Foods Markets and natural and specialty food stores such as Balducci's, Carmine's Gourmet, Garden of Eden, Market Baskets and Natural Frontier located throughout the United States at a suggested retail price of $3.49. FruitziO can also be purchased from Crispy Green's online store at http://crispygreen.com/fruitzio/view-all-products.html or at http://www.amazon.com.
To find a retailer in your area that carries Crispy Green's products, go to http://www.crispygreen.com/where-to-buy.html.
For more information about FruitziO and other Crispy Green products, please visit the Crispy Green Web site at http://www.crispygreen.com.
For news updates, information and special offers, follow Crispy Green and FruitziO on Twitter @CrispyGreen and @FruitziO and become on Facebook at http://www.facebook.com/crispygreen.
About Crispy Green
Crispy Green Inc. is the maker of Crispy Green Crispy Fruit freeze-dried fruit snacks and the new line of FruitziO freeze-dried fruit snacks. The company was founded in August 2004 with a vision to be the leading provider of high quality, natural food products desired by everyone who wants to live a healthy and better life.
The Crispy Fruit and FruitziO line of snacks are made of only the finest fruits available. A sophisticated freeze-drying process removes the water from fresh, sweet fruit, leaving behind the fruit's true essence in a light and crispy texture that's perfect for snacking. Crispy Green's line of Crispy Fruit and FruitziO are a delicious, convenient way to add more fruit to your daily diet.
In 2005, Crispy Green introduced its line of Crispy Fruit in the United States. Since then, Crispy Green has been adding one new product each year to its Crispy Fruit product line to meet its rapidly growing distribution footprint. In 2009, Crispy Green launched Strawberry FruitziO, its first product in its new line of FruitziO freeze-dried fruit snacks.
# # #