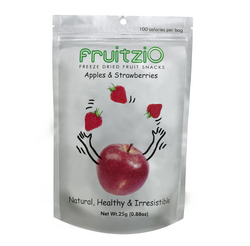 "Kids want the stuff that tastes good. Parents want the stuff that's good for them. So we created FruitziO Apples & Strawberries to combine the best of both worlds in a light, sweet and crunchy snack that provides a natural, wholesome and sweet snack."
Fairfield, NJ (PRWEB) June 24, 2010
Fans of healthy snacks across the U.S. will all shout out a resounding "yum-o!" when they discover the sweet taste and light crunch of Crispy Green's FruitziO Apples & Strawberries that will be featured on The Rachael Ray Show as the 'Snack of the Day' on July 6, 2010.
Viewers can also enjoy Rachael Ray's new favorite snack. For a limited time, Crispy Green is offering 20% off its entire FruitziO line at its online store at http://www.CrispyGreen.com.
Made with only the finest freeze-dried Fuji apples and strawberries - with just a hint of pure, natural sugar - FruitziO Apples & Strawberries is packed with delicious fruit taste and does not contain preservatives (including sulfides), fat, cholesterol or sodium and is peanut/tree nut free, gluten-free, dairy free and is kosher certified.
FruitziO Apples & Strawberries combine the sweet taste we crave into one light, sweet and crunchy snack that kids and adults can both enjoy anytime, anywhere to provide the fruit we need in our daily diet.
FruitziO Apples & Strawberries is available in 25-gram moisture-free, resealable pouches and contain approximately 2.5 servings of fruit. Each bag is only 100 calories and provides 58% of the daily-recommended amount of vitamin C.
FruitziO is also available in three other delicious flavors: Apricots, Peaches and Strawberries.
"We are delighted to have FruitziO Apples & Strawberries featured as Rachael Ray's Snack of the day," says Angela Liu, President and Founder of Crispy Green. "Kids want the stuff that tastes good. Parents want the stuff that's good for them. So we created FruitziO Apples & Strawberries to combine the best of both worlds in a light, sweet and crunchy snack that provides a natural, wholesome and sweet snack."
The Rachael Ray Show is an Emmy Award-winning, daily, one-hour, syndicated show and is among the top-ranked daytime programs on television. For more information about show times in your area, please visit http://www.rachaelrayshow.com.
FruitziO can be found in the produce and grocery aisles of many leading supermarkets such as Acme, Diebergs, Earth Fare, The Fresh Market, Heinens, Kings, Market District, Shop Rite, Ukrops and Whole Foods Markets and natural and specialty food stores such as Balducci's, Carmine's Gourmet, Garden of Eden, Market Baskets and Natural Frontier located throughout the United States at a suggested retail price of $3.49. FruitziO can also be purchased from Crispy Green's online store at http://www.crispygreen.com/fruitzio/fruitzio-strawberries.html or at http://www.amazon.com.
To find a retailer in your area that carries Crispy Green's FruitziO products, go to http://www.crispygreen.com/where-to-buy.html.
For more information about FruitziO and other Crispy Green products, please visit the Crispy Green Web site at http://www.crispygreen.com.
About Crispy Green
Crispy Green Inc. (http://www.crispygreen.com) is the maker of Crispy Green Crispy Fruit freeze-dried fruit snacks and the new line of FruitziO freeze-dried fruit snacks. The company was founded in August 2004 with a vision to be the leading provider of high quality, natural food products desired by everyone who wants to live a healthy and better life.
The Crispy Fruit and FruitziO line of snacks are made of only the finest fruits available. A sophisticated freeze-drying process removes the water from fresh, sweet fruit, leaving behind the fruit's true essence in a light and crispy texture that's perfect for snacking. Crispy Green's line of Crispy Fruit and FruitziO are a delicious, convenient way to add more fruit to your daily diet.
In 2005, Crispy Green introduced its line of Crispy Fruit in the United States. Since then, Crispy Green has been adding one new product each year to its Crispy Fruit product line to meet its rapidly growing distribution footprint. In 2009, Crispy Green launched Strawberry FruitziO, its first product in its new line of FruitziO freeze-dried fruit snacks.
###