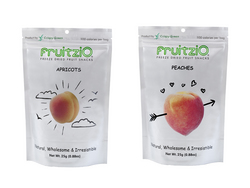 Variety is the spice of life. That's why we have added two new delicious flavors to our growing FruitziO product line that will satisfy everyone's sweet tooth
Fairfield, NJ (PRWEB) March 16, 2010
Crispy Green Inc., the maker of Crispy Green® premium Crispy Fruit and FruitziO® freeze-dried fruit snacks, today announced the addition of two new flavors to its growing family of all-natural, wholesome, 100-calorie FruitziO product line: Apricots and Peaches.
The pair marks the newest flavors added to the FruitziO product line since it debuted in 2009 as a fun and delicious way to add more fruit into the diet, packaged in convenient, travel-friendly, moisture-free 25-gram (.88-ounce) resealable pouches. FruitziO combines what's good for consumers with what tastes great in a light, sweet and crunchy snack that that kids and adults can enjoy anytime, anywhere.
FruitziO Apricots and FruitziO Peaches are made with only the finest apricot or peach freeze-dried fruit slices with just a hint of pure cane sugar and provide the wholesomeness of fresh fruit with the sweet taste we crave. Other existing flavors in the FruitziO line include Strawberries and Apples & Strawberries.
Like all other FruitziO products, FruitziO Apricots and FruitziO Peaches do not contain preservatives (including sulfides), fat, cholesterol or sodium and are vegan-friendly and are peanut/tree nut free, gluten-free and dairy free and are kosher certified.
Indulge Your Cravings - Naturally
FruitziO snacks contain natural fruit fiber and nutrients and are nutritionally equivalent to their fresh counterparts. The products resealable packaging, long shelf life (36 months) and portability provide children and adults with a nutritious go-anywhere snack that they can enjoy anytime. FruitziO is the perfect choice for people looking for a healthy and fun alternative to traditional snack chips or candy.
"Variety is the spice of life. That's why we have added two new delicious flavors to our growing FruitziO product line that will satisfy everyone's sweet tooth," says Angela Liu, President and Founder of Crispy Green. "Crispy Green is dedicated to developing new flavors in our product line that meet our quality high standards for natural, wholesome and fun fruit snacks that can be enjoyed by everyone."
FruitziO can be found in the produce and grocery aisles of many leading supermarkets such as Acme, Diebergs, Earth Fare, The Fresh Market, Heinens, Kings, Market District, Shop Rite, Ukrops and Whole Foods Markets and natural and specialty food stores such as Balducci's, Carmine's Gourmet, Garden of Eden, Market Baskets and Natural Frontier located throughout the United States at a suggested retail price of $3.49. FruitziO can also be purchased from Crispy Green's online store at http://www.crispygreen.com/fruitzio/fruitzio-strawberries.html or at http://www.amazon.com.
To find a retailer that carries Crispy Green's products, go to http://www.crispygreen.com/where-to-buy.html.
For more information about FruitziO and other Crispy Green products, please visit the Crispy Green Web site at http://www.crispygreen.com.
About Crispy Green
Crispy Green Inc. (http://www.crispygreen.com) is the maker of Crispy Green Crispy Fruit freeze-dried fruit snacks and the new line of FruitziO freeze-dried fruit snacks. The company was founded in August 2004 with a vision to be the leading provider of high quality, natural food products desired by everyone who wants to live a healthy and better life.
The Crispy Fruit and FruitziO line of snacks are made of only the finest fruits available. A sophisticated freeze-drying process removes the water from fresh, sweet fruit, leaving behind the fruit's true essence in a light and crispy texture that's perfect for snacking. Crispy Green's line of Crispy Fruit and FruitziO are a delicious, convenient way to add more fruit to your daily diet.
In 2005, Crispy Green introduced its line of Crispy Fruit in the United States. Since then, Crispy Green has been adding one new product each year to its Crispy Fruit product line to meet its rapidly growing distribution footprint. In 2009, Crispy Green launched Strawberry FruitziO, its first product in its new line of FruitziO freeze-dried fruit snacks.
# # #