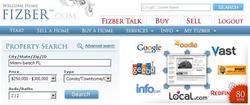 This new relationship will make it easier for homebuyers, investors and real estate agents and brokers to search and view condo properties on our site
Miami Beach, FL (PRWEB) October 17, 2008
Miami Beach, FL (PRWEB) October 17, 2008 – Fizber.com, the leading real estate search engine site, announced a partnership with Condo.com, the world's largest condo marketplace. This new relationship with Condo.com will provide buyers visiting Fizber.com with the ability to search for the latest condo listings in their local markets and across the country.
Fizber.com now provides buyers and investors with the most extensive listing inventory of condos in the U.S. "This new relationship will make it easier for homebuyers, investors and real estate agents and brokers to search and view condo properties on our site," said Julia Foster, Fizber.com VP of Marketing.
Matt Pluznick, VP of Strategic Development for Condo.com, added, "This exciting new partnership with Fizber allows Condo.com to reach a brand-new audience of over 1 million potential customers through the seamless distribution of our condo listings to the Fizber.com site. This new audience combined with our current Condo.com community of over 1 million visitors monthly - and growing - supports our mission to be a huge and valuable resource to the multi-family real estate industry making this partnership ideal."
Fizber.com offers the largest national database of For Sale By Owner, pre-foreclosure, foreclosure, and new home construction properties, with more than 2 million properties across the country. Fizber.com hosts over 1 million unique monthly visitors, and provides the comprehensive property data that home seekers, investors and realtors need to locate, evaluate and buy real estate properties in the United States.
About Fizber.com
With home listings throughout the United States, Fizber.com strives to connect buyers and sellers more effectively. The site offers to list for-sale properties on a multiple listing service for a $349.95 flat fee, to submit property ads to a variety of property search engines for a $299.95 flat fee, and a package of both services for $499.95. Prospective homebuyers can browse property database, available at http://www.fizber.com, at no charge.
About Condo.com
Condo.com is the world's largest condominium marketplace with over 600,000 listings valued in excess of $150 billion. The site receives over 1 million visitors monthly and is dedicated to the evolution and prosperity of the condominium real estate market. Condo.com improves and simplifies the way people buy, rent, sell, manage, market and enjoy the condo lifestyle. Condo.com lists condominiums for sale and for rent in the United States and 70 countries around the world and cost-effectively delivers exposure and qualified leads to developers, brokers and for-sale-by-owners through the seamless distribution of its listings to a global network of real estate websites visited by over 15 million viewers per month. Condo.com is privately held and headquartered in Miami, Florida. For more information visit http://www.condo.com.
###