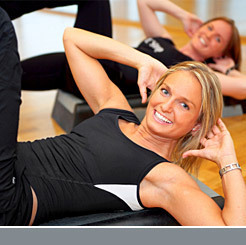 "I'll pay you $5,000 to lose your chubbiness!"
Ft. Lauderdale, FL (PRWEB) March 5, 2010
Local fitness guru Ellen Latham has a proposition for Ft. Lauderdale's community of pudgy folks: "I'll pay you $5,000 to lose your chubbiness!"
Latham, former Fitness Expert for Channel 7 News, fitness columnist for the Miami Herald and Sun-Sentinel and Fitness Editor of Woman's Fitness Magazine, is franchising her revolutionary workout developed while running Ellen's Ultimate Workout in Davie. Her new Ft. Lauderdale workout studio is called Orange Theory Fitness.
To promote the grand opening, scheduled for March 17, 2010, Latham and her partners are sponsoring a weight loss contest. The field is limited to 20 people, divided into four teams of five and will be captained by a personal trainer. The team that shows the greatest improvement over a six-week period (measured by weight loss and body fat percentage) will win $5,000.
The Orange Theory Workout is fast, fun and done in group classes with highly qualified, motivational trainers. "I've custom-designed each minute of the class so there's no guesswork – my 'Club Orange' members achieve maximum results in minimal time. And they never get stale because we change it up from day to day. We workout hard, play loud, fun music and everyone can go at their own pace – we welcome all shapes and sizes," said Latham.
But perhaps the most surprising part is what happens after the workout – Latham's proprietary mix of cardio, core-strengthening and anaerobic exercises prompts the fat burning process to continue for up to 24 hours post-workout. "Club Orange members literally lose weight in their sleep!" said Latham. "We call it the 'Orange Effect" Latham said.
Interested people can apply to participate in the contest at MyOrangeTheory.com. All registrants, whether or not chosen for the contest, will automatically receive three free, no-obligation classes at Orange Theory Fitness for a limited time.
Ellen Latham, M.S. holds a Master's Degree in Exercise Physiology and was named Businesswoman of the Year by the City of Buffalo. She has partnered with franchise experts The Ascente Group to launch Orange Theory Fitness. For more information about Orange Theory Fitness, the weight loss contest or franchise opportunities, visit Orange Theory Fitness, find us on Facebook or on Twitter @OTheoryFitness.
###