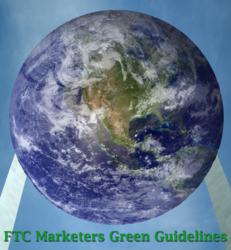 "The FTC's changes to the Green Guides will level the playing field for honest business people and it is one reason why we had such broad support." ~ FTC Chairman Jon Leibowitz
Minneapolis, Minnesota (PRWEB) October 01, 2012
The Federal Trade Commission issued their revised "Green Guides" this morning. The Marketers guidelines are designed to help ensure that advertising claims made about the environmental attributes of green products are truthful and non-deceptive. Integral Media values the process by which the FTC arrived at it's revisions, listening to considerable public comment first. The FTC has been fair and open regarding its concerns to be fair to consumers without overburdening the process of educating consumers.
Everyone may like to think if themselves as "green friendly", being a responsible citizen to care for our earth's resources and protect today's environmental impact for our grand-children and generations to come. For companies with a product that is marketed under the banner of "green", "environmentally safe" or "eco friendly", claims like these sound great, but the FTC says "they're too vague to be meaningful. The fact is that all packaging and products have some environmental impact"
To avoid confusion marketers use Green Guides as a road map for their green claims, learning how the FTC sees green terms and what their established meaning is. As consumers shop and compare products, many are seeking details about what makes the package or product green, and they deserve clear and transparent details. If a company has earned a special seal or certification stating the product is green, advertisers should be able to present substantiating material.
"The introduction of environmentally friendly products into the marketplace is a win for consumers who want to purchase greener products and for producers who want to sell them," FTC Chairman Jon Leibowitz says in this morning's press release. "But this win-win can only occur if marketers' claims are truthful and substantiated. The FTC's changes to the Green Guides will level the playing field for honest business people and it is one reason why we had such broad support."
Integral Media says, "No one wants to fall short of the requirements asked for by the FTC. Marketing consultants should carefully review the Guides and not make broad, unqualified claims that a product is 'environmentally friendly' or 'eco-friendly' simply to suggest that the product has specific and far-reaching environmental benefits". Even companies with best of marketing intentions find it challenging to know just how the consumer will interpret advertising messages. The new guides help lead the way.
The FTC says, "Very few products, if any, have all the attributes consumers seem to perceive from such claims, making these claims nearly impossible to substantiate".
The Marketers Green Guide helps address marketing areas of weakness that need strengthening by:

Advise marketers not to make an unqualified degradable claim for a solid waste product unless they can prove that the entire product or package will completely break down and return to nature within one year after customary disposal.
Caution that items destined for landfills, incinerators, or recycling facilities will not degrade within a year, so marketers should not make unqualified degradable claims for these items.
Clarify guidance on compostable, ozone, recyclable, recycled content, and source reduction claims.
While the new guidelines are not law, Integral Media sees them as definitely causing a needed impact in the marketing world, and offer helpful guidelines for a company's marketing compliance efforts. "The Green Guides are not agency rules or regulations. Instead, they describe the types of environmental claims the FTC may or may not find deceptive under Section 5 of the FTC Act. Under Section 5, the agency can take enforcement action against deceptive claims, which ultimately can lead to Commission orders prohibiting deceptive advertising and marketing and fines if those orders are later violated", states the FTC website.
We have all noticed that the FTC has brought several actions in recent years related to deceptive recyclability, biodegradable, bamboo, and environmental certification claims as part of its overall effort to ensure that environmental marketing is truthful and substantiated. Today's shoppers are smarter than ever. Whenever a business builds trust with its consumers around it's marketing messages, both the product producer and the end buyer benefit.
Contact Integral Media, trusted Marketers that handle integrated media buys and media ad placements that work for business.