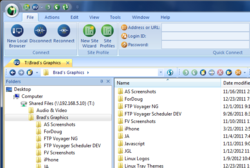 FTP Voyager is about to reset the usability bar for FTP clients the same way Microsoft Office reset it for productivity suites.
Helenville, WI (PRWEB) September 30, 2012
The first major FTP client to feature Microsoft's ribbon control will be released next week in FTP Voyager version 16, according to a RhinoSoft announcement.
"This release resets the usability bar for FTP clients the same way Microsoft Office's 'ribbon release' reset the bar for productivity suites," said Senior Software Architect Doug Papenthien, project lead for the FTP Voyager revamp.
FTP Voyager's ribbon avoids the clutter found in legacy FTP clients that still use both a menu structure and toolbars to represent the same commands.
"Developers call that the belt-and-suspenders approach," continued Papenthien. "End users just think it's complicated."
Other FTP Voyager interface improvements include a streamlined scheduler experience, improved backup wizard, and better folder synchronization. Additional improvements include native support for 64-bit computing, IPv6 support for FTP, SFTP and FTPS, and faster performance through multi-threaded transfers.
"Under the covers FTP Voyager is built more like a scheduler with an FTP client than an FTP client with a scheduler," said Papenthien. "It also shares some components with our Serv-U FTP Server, which helps us develop more efficiently by reducing the number of codebases we need to support."
The forthcoming release, expected this Tuesday, will consolidate previous "Standard" and "Secure" editions of FTP Voyager into a single edition which includes all features.
"One goal of this release is to give people running legacy FTP clients such as WS_FTP® Professional or CuteFTP® Professional an alternative since development on those products has largely ceased," said RhinoSoft VP Jonathan Lampe. "For 30% less money, the new version of FTP Voyager will offer a more intuitive interface, better features and more regular updates, including guaranteed support of Windows 8 and Windows Server 2012."
The year's revamp of FTP Voyager is not the first time RhinoSoft has rebuilt key software from scratch. RhinoSoft's 2008 rewrite of its popular Serv-U FTP Server allowed it to become a market leader in Asia, pace the growth of 64-bit server operating systems such as Windows Server 2008 R2, and expand its reach onto Linux operating systems.
RhinoSoft is the global leader in affordable file transfer, with more than 90,000 business customers, including nine of the Fortune 10, in 90 different countries. Its award-winning and U.S. Army certified Serv-U FTP server software for Windows and Linux and FTP Voyager FTP client software support FTP, SFTP, FTPS and web-based HTTP/S transfers, while embracing emerging technologies such as mobile computing, IPv6, native 64-bit computing and UTF-8/Unicode internationalization.
CuteFTP is a registered trademark of GlobalSCAPE, Inc. WS_FTP is registered trademark of Ipswitch, Inc. Office, Windows 8, and Windows Server 2012 are trademarks or registered trademarks of Microsoft Corp. FTP Voyager is a registered trademark of Rhino Software, Inc