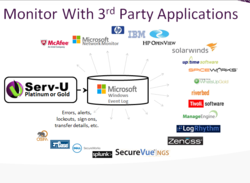 This FTP server release provides unparalleled visibility into your file transfers.
Helenville, WI (PRWEB) November 14, 2012
RhinoSoft, a leading secure file transfer vendor, has announced the release of Serv-U version 14, which adds Windows Event Log, LDAP, MSMQ, and Windows Server 2012 support to the popular FTP server.
"Serv-U is a critical component in many corporate file exchanges," said RhinoSoft VP Jonathan Lampe. "This release advances our commitment to work seamlessly with common IT infrastructure such as centralized authentication directories, network monitoring, message queues and virtualization-ready server platforms."
Serv-U's Window Event Log support allows it to log file transfers, log ins, user administration, errors and many other activities to the local Application log. From there, Serv-U events may be consumed by network monitoring and SEIM technology provided by HP OpenView, SolarWinds, SpiceWorks and dozens of other vendors.
"If you live and die by your NOC, logging to the Event Log is a 'must have' feature that provides unparalleled visibility into your file transfers," said RhinoSoft President Mark Peterson. "Auditors will also appreciate the fact that we can stamp our messages with detailed information that establishes the identity and intent of everyone on the system."
Serv-U's LDAP support allows servers deployed on Linux platforms to authenticate to Active Directory, allows servers deployed on Windows to authenticate to Active Directory in multiple domains, and allows users in a single domain to authenticate to multiple authentication servers. User accounts authenticated against LDAP servers enjoy use of the group membership, email address, and full names configured on their LDAP server.
"This feature addresses the top two complaints we heard about our existing Active Directory implementation," said Lampe. "LDAP authentication allows our Linux customers to plug in to AD, and it allows authentication attempts to finally cross domain boundaries."
Serv-U's MSMQ support lets enterprise applications built on top of a message queue architecture, also known as an enterprise service bus, to listen for Serv-U events such as "file uploaded." This allows MSMQ-ready applications to pull files from or take other actions against the Serv-U server minding their bulk file transfers.
"Message queuing is definitely a 'managed file transfer' enhancement," said Lampe. "This gives application architects the means to handle big data transfers using safe and reliable Serv-U technology without needing to change their existing processes or applications."
Serv-U's FTP Voyager JV, a rich web client that provides "side-by-side" local and remote transfer panes and synchronization, also received a major enhancement in version 14. The client now uses up to 9 simultaneous transfer threads to speed uploads and downloads. (Previously, FTP Voyager JV could upload or download multiple files in a single operation, but it transferred them one at a time.)
In addition to receiving several new enhancements, version 14 of Serv-U was qualified against Microsoft's two new operating systems: Windows 8 and Windows Server 2012.
"RhinoSoft has always been an early adopter of 'next generation' technology, whether it's mobile interfaces, web transfers, or new operating systems," said Peterson.
Version 14's new Windows Event Log support is available in Serv-U Gold and Serv-U Platinum. The new MSMQ and LDAP support is available in Serv-U Platinum. The FTP Voyager JV enhancements are available to every FTP Voyager JV customer, including all Serv-U Platinum customers. All Serv-U editions are now supported on Windows 7 and Windows Server 2012, as well as other Windows and Linux operating systems.
# # #
RhinoSoft (rhinosoft.com) is the global leader in affordable file transfer, with more than 90,000 business and government customers in 90 different countries. Its award-winning and U.S. Army certified Serv-U FTP server software for Windows and Linux and FTP Voyager FTP client software support FTP, SFTP, FTPS and web-based HTTP/S transfers, while embracing emerging technologies such as mobile computing, IPv6, native 64-bit computing and UTF-8/Unicode internationalization.
OpenView is a registered trademark of Hewlett-Packard Development Company, L.P., SolarWinds is a registered trademark of SolarWinds, Inc. and SpiceWorks is a trademark of SpiceWorks, Inc..