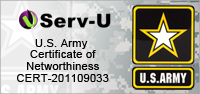 Our CoN, IPv6 support, and demonstrated history of success in military applications make Serv-U FTP Server a compelling choice for new secure file transfer deployments.
Helenville, WI (PRWEB) July 24, 2012
Today RhinoSoft, a leading secure file transfer software vendor, announced that the U.S. Army has awarded it an "enterprise" secure file transfer contract for its Serv-U FTP server.
The enterprise contract allows the U.S. Army to deploy an unlimited number of copies of the Serv-U secure FTP software to provide file exchange for a particular mission.
Serv-U received a Certificate of Networthiness (CoN - CERT-201109033) from the United States Army last year after an extensive assessment to ensure it met or exceeded U.S. Army requirements for reliability and security. Serv-U also provides full support for IPv6, the preferred protocol for the Department of Defense since 2003.
"We are delighted that Serv-U has again been selected to support our country's warfighting capabilities," said RhinoSoft VP Jonathan Lampe. "Serv-U is entirely developed in the United States by U.S. citizens, was built with IPv6 in mind, and, with last year's CoN, is now in position to become our military's leading solution for FTP, SFTP, FTPS or web transfer deployments."
RhinoSoft already uses FIPS 140-2 validated cryptography in Serv-U and plans to add more military-grade capabilities in its file transfer products, including full IPv6 support in its CoN-certified FTP client later this year. Existing company procedures and DoD directive 8570.1 certified staff also make RhinoSoft an attractive vendor for military applications.
"Security is a top priority for our armed services and it's a top priority for us," said RhinoSoft President Mark Peterson. "We have an immediate patch turnaround policy on all security defects and we publish fully qualified updates every month. No one else in the managed file transfer industry comes close to our focus on quality, security and responsiveness."
Other military and federal agencies who have made recent purchases of RhinoSoft technology include the U.S Air Force, the U.S. Navy, the Department of Homeland Security, NASA's Jet Propulsion Laboratory, the White House Military Office, the Social Security Administration and the Defense Advanced Research Projects Agency (DARPA).
RhinoSoft is the global leader in affordable file transfer, with more than 90,000 business customers, including nine of the Fortune 10, in 90 different countries. Its award-winning and U.S. Army certified Serv-U FTP server software for Windows and Linux and FTP Voyager FTP client software support FTP, SFTP, FTPS and web-based HTTP/S transfers, while embracing emerging technologies such as mobile computing, IPv6, native 64-bit computing and UTF-8/Unicode internationalization.