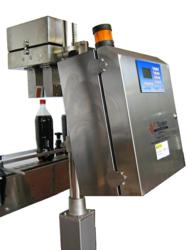 The market demanded a non-radiation emitting fill level inspection system for products with foam in the head space and the CL700-HF meets that demand
Atlanta, GA (PRWEB) February 22, 2012
FT System a leading manufacturer of inspection equipment for the food and beverage industry announced today that it has released its newest fill level inspection system, the CL700-HF, high frequency fill level system for glass and plastic containers. The system is designed to mount easily over an existing production conveyor. The ergonomic design provides easy access to the control panel and supports fast tool-less change overs. The High Frequency fill level system can be used on still products including water, juice and tea, wine and spirits. The system can also be used on carbonated beverages.
"The CL700-HF fill level inspection system with foam compensation is an extension FT System's long history of innovative product development. The market demanded a non-radiation emitting fill level inspection system for products with foam in the head space and FT System CL700-HF meets that demand", said Rick Reardon, General Manager of FT System North America. "This type of foam compensation technology is unique to FT System. Prior to its release we performed and extended evaluation on a high speed carbonated soft drink line. The customer determined the fill level measurement of the high frequency system outperformed their current X-ray inspection".
The technology is unique in that it not only measures the liquid level in a container but it also measures the height and density of the foam in the head space. The system will calculate the liquid equivalent of the foam and determine an aggregate fill level.
Features of the FT System CL700-HF High Frequency Fill Level Inspection System include:
Over fill and under fill inspection on single sensor
Consecutive and sequential reject alarms
Self diagnostics with alarm output
Multilingual user interface
Ethernet communication
Able to support multiple production lines from single controller
Filler valve monitoring to isolate fill level defects by individual filler valve
Filler valve sampling to periodically sample containers by filler valve
About FT System
FT System was founded in 1998 with the goal of becoming a leading supplier of container inspection and monitoring solutions. Our reputation for quality, reliability and customer satisfaction has made us the preferred supplier of inspection equipment to many of the leading manufacturers and system integrators in the food and beverage industry. Since our inception we have grown to become a global leader in inspection and control solutions with more than 3,000 installations in over 60 countries around the world. For more information visit FT System website at http://www.ftsystem.com
About Arol
In 2009 FT System joined the Arol S.p.A., group of companies. Arol S.p.A. is the world leader in capping machinery for the beverage industry with over 700 systems supplied annually. The two companies have successfully developed innovative inspection solutions including our patented QSC120 a fully automated system for checking leak, fill volume, cap torque, CO2 content in carbonated beverages and our QT700 in-line cap inspection system designed to inspect cap quality prior to the capping process. For more information visit our website at http://www.arol.com
###