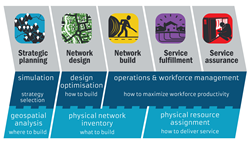 Tampa, FL (PRWEB) September 25, 2013
GE, iToolsOnline and Comsof have joined forces to create an integrated software solution for FTTx network operators needing to drive down their CAPEX and OPEX spend. The solution will be showcased at the upcoming FTTH Conference & Expo in Tampa, Florida.
The FTTH Conference & Expo is the largest event of the year for the North American FTTH industry, and will be held September 30 through October 2, 2013, at the Tampa Convention Center.
The combined solution covers the end-to-end FTTx network management lifecycle – from planning & design, through to network build, and on to service fulfillment & assurance.
Raf Meersman, CEO at Comsof, explains the rationale behind the 3-way collaboration: "If you look at the network management lifecycle, our respective solutions complement each other perfectly; so bringing them together allows us to deliver a more comprehensive end-to-end solution. We've also seen that a lot of the client's data is common across our respective applications. With integration we're therefore able to give the client a much more efficient process and greater data integrity."
According to Mark Simon, CEO at iToolsOnline, many network operators are failing to achieve the results they need from their FTTH deployments. "FTTH builds are high-risk undertakings," says Mark. "Ill-prepared operators run the risk of overspending - on both CAPEX and OPEX – and failing to achieve the end-user uptake they need to deliver a positive ROI. Teaming up with GE and Comsof allows us to offer a solution that helps operators avoid the pitfalls of FTTH deployments and make the best financial and operational decisions at each stage of the process."
Mark describes the FTTH Conference as the next logical step for the three companies who already have a strong history of working together. "Whilst we regularly collaborate on specific client projects, the FTTH Conference is the first time we've combined forces in this way. We'll be sharing an exhibition stand and we're also delivering a number of joint presentations on specific aspects of the process," says Mark.
GE is a market leader in the provision of network inventory solutions to telecommunications operators. Its Smallworld Network Inventory software provides a consolidated end-to-end view of the operator's network. It combines the fully connected, inside and outside plant of the physical network, with the services of the logical network to create an integrated inventory.
About iToolsOnline
iToolsOnline provides operations management software for network operators that lowers operating costs and improves service performance. Its iTools Telecom solution removes the bottlenecks from operational processes, provides automated reporting and allows seamless collaboration between the network operator, its field contractors and customers.
http://www.itoolsonline.com
About Comsof
Comsof develops network planning & design solutions for the telecommunications industry. Its FiberPlanIT solution helps operators maximise the ROI from FTTx network rollouts. FiberPlanIT covers the construction of the business case, through to the production of detailed roll-out plans.
http://www.comsof.com