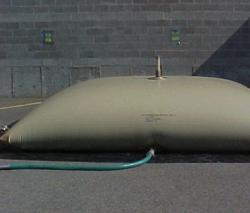 Fuel Bladders pay for themselves!
Boston, MA (PRWEB) September 10, 2012
A Plus Warehouse is always adding vendors and products to diversify the product mix offered to customers. A Plus Warehouse's most recent addition to the lineup is Berg Company spill containment, fuel bladders and water bladders. Companies need to be protective of the environment while saving money as well. A Berg Fuel Bladder can hold up to 20,000 gallons of fuel and will cost quite a bit less than fabricating a free standing tank. Another feature a bladder has is mobility.
Consider a major construction site for a moment. The powered equipment requires fuel obviously. Driving to a centralized fuel depot is inefficient to say the very least. Also , construction of a fuel tank may be prohibitive as well – especially since a fuel tank can't easily be picked up and moved to a new site. A fuel bladder will allow construction sites to efficiently store fuel on site, and then be folded up into a standard Gaylord box for shipment to the next site! The military also needs massive amounts of fuel available close to the vehicles that need fueling. With A Plus Warehouse offering great values to the US Government, and having a Cage Code – there should be no surprise that the military is a valued customer here at A Plus Warehouse. According to Ed Stairman, "A Fuel Bladder pays for itself in saved time and effort in fueling."
Bladders are also great for water. Customers should be aware that A Plus Warehouse sells water bladders and fuel bladders. Although they look the same the chemical compounds used in each is quite a bit different! Customers should be very careful to order fuel bladders to store fuel. Water bladders can be used for storing potable and non-potable – so called gray water as well. On customer request, A Plus Warehouse can mark water bladders as needed when an order is placed. Some operations that should have water bladders in place include hospitals, fire departments, condominiums and even individual homes.
Without potable water, people can't live beyond 4 days. It makes sense to keep emergency water available. Many people don't bother at all while some families keep a few extra 5 gallon jugs of water in the home. A true survivalist would seriously consider having a place to store potable water.
Berg also produces Berms of all sorts as well as Onion tanks and other spill containment equipment. Berg also has been manufacturing quality tents since the 1800's. In fact, Berg is one of the oldest companies in Washington State! A Plus Warehouse is very pleased to now offer the Berg Company line on a nationwide basis.