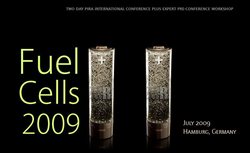 With our partner, CoreTecVentures and the help of Fuel Cell Europe, attendees can expect a program that addresses the issues facing the industry this minute - namely the lack of available capital to fund the progress of fuel cell technology
London, UK (PRWeb UK) March 24, 2009 -
Pira International and partner Core Technology Ventures, announces the 2009 Fuel Cells Annual Summit in Hamburg, Germany on 23 - 25 June. With a strong focus on financing and policy, Fuel Cells 2009 will provide the latest information on issues facing the industry. The conference is also being held with the support of Fuel Cell Europe.
At the Fuel Cells Annual Summit, attendees will hear case studies on financing a fuel cell business as well as information on gaining funding and investment from both the private and public sectors. "With our partner, CoreTecVentures and the help of Fuel Cell Europe, attendees can expect a program that addresses the issues facing the industry this minute - namely the lack of available capital to fund the progress of fuel cell technology," says Valerie King, Conference Producer, Pira International. "CoreTecVentures and Pira International once again will create a forum where technology providers will receive information regarding financial opportunities available as well as the necessary steps in obtaining this funding or investment."
At the 2009 Annual Fuel Cell Summit companies with a stake in fuel cell technology will have ample opportunity to network with industry experts. The program, which includes over 25 presentations, will be chaired by Phil Doran of CoreTecVentures, and feature sessions on updates in fuel cell policy, public transport and users, government and corporate case studies, and a whole day devoted to funding and investment.
Pira International and CoreTecVentures are also proud to announce the participation of Bob Rose, Executive Director of the U.S. Fuel Cell Council and Dr Robert Trezona of The Carbon Trust.
Conference Registration
Learn more by visiting Fuel Cell Annual Summit online or call Caroline Potapa at 44 (0) 1372 802101 or email caroline dot potapa at pira-international dot com. Join the fuel cell discussion on LinkedIn
About Pira International
Pira International provides events, training, online information and publications across a wide range of niche commodities and disruptive technologies affecting industry. Our 100% independent products are provided globally 24/7 and delivered by teams of independent experts at sites in Portland, Maine, US and London, UK through 20 specialized industrial platforms. Our core competencies are information on: research and product development; globalization and new markets; production methods; regulatory and compliance.
About CoreTecVentures
CoreTec is based in Germany and the UK and is comprised of leading clean technology experts with a track record of helping developers and financiers across Europe and the US to realise their full sector potential. If properly advised, the global and dynamic nature of the clean technology industry, its drivers and multiple markets present a complex but potentially extraordinary opportunity for developers and financiers alike.