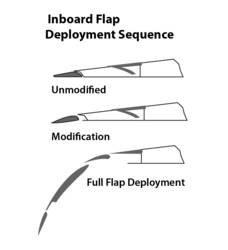 The available data indicates a 2.7% to 3.2 % performance improvement trend for the current operators
Reno, NV (PRWEB) November 11, 2010
AeroTech Services, Inc., announced today the company is seeing positive performance improvement results on the aircraft utilizing their fuel reduction modification. The modification reduces fuel consumption and green house gas emissions by up to 4% on the Boeing 737 Classics (-200, -300, -400 and -500 models).
"The available data indicates a 2.7% to 3.2 % performance improvement trend for the current operators," states James Nettle, Director, AeroTech Services. "The looming implementation of the EU ETS and a return on investment of about 12 months, at today's fuel prices; has drawn a lot of attention to this easy-to-install modification," he continued.
The AeroTech B737 modification replicates a NASA designed airfoil by increasing the aircraft's wing area and camber, and lengthening the wing chord; all of which increases the lift-to-drag ratio. The modification has been certified by the U.S. FAA and EASA, and verified in service to reduce fuel burn during climb and cruise.
Airlines currently using the AeroTech modification include Brussels Airlines, Swiftair, MNG Airlines, and Ukraine International Airlines. GECAS leases seven B737-300F aircraft with the AeroTech Modification on them. AeroTech has several customer references, which are available upon request.
AeroTech Services, Inc., a USA based company, holds the US Patent No. 6,598,834 on the wing modification for all aircraft. The company markets and sells the modification worldwide to commercial airline operators. For more information call (800) 294-2074, (702) 405-0325 or, visit the website at http://www.aerotechservices737.com.
# # #