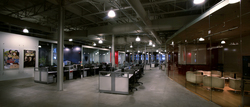 With our new virtual world booming, our Denver iPhone team releasing exciting new branded and original projects every month, and our overall team growing to the tune of a projected 30 plus staff members this year, it's proof that the industry is hungry for new ideas, particularly during a recession
Ottawa, Canada (Vocus) March 17, 2009
Interactive entertainment pioneer Fuel Industries is midway through its ninth year of business with projections for the agency's largest expansion to date. Significant growth in its branded services, licensed properties, and console /iPhone development divisions has driven an increase in original estimates, and pushed the agency to defy the U.S. president's somber mood by paying out employee profit share and expanding into two new physical locations over the last four months.
Projection Highlights:

40% increase to original revenue projections over 2008, 50% quarter over same period 2008
Los Angeles branch to expand to 18 staff within the year.
Projected 30% increase to headcount (30 new hires within year)
Since November 2008, Fuel has launched Fuel Games Denver, its iPhone development studio, and a branch in L.A. to keep step with its growing presence in the entertainment industry born from its dedication to its own original properties, including a new and rapidly growing virtual world for tween girls, dubbed Spark City, which resides on its social gaming network for girls, AllGirlArcade.com.
"With our new virtual world booming, our Denver iPhone team releasing exciting new branded and original projects every month, and our overall team growing to the tune of a projected 30 plus staff members this year, it's proof that the industry is hungry for new ideas, particularly during a recession," said Fuel CEO Mike Burns. "The spoils will go to the agencies and the marketers that realize that an economic downturn can often be the best time to let loose the ideas you've been saving for a rainy day."
To keep pace with its record growth, Fuel is opening its doors to industry talent and hosting an open house and job fair at its Ottawa studio on April 1st. The entertainment studio will be showcasing recent successes and, for the proper candidates, will interview on the spot.
"With all the doom and gloom reporting in the industry, missing sight of positive news can be easy," said Chief Creative Officer Warren Tomlin. "From designers to programmers to project managers, we've got openings in almost every department of our studio, and we're hosting an event to show professionals that if they've got the talent, we've got some of the hottest opportunities in the entertainment industry. With companies' ad budgets shrinking and expected to stretch further than ever, businesses that are challenging the old models are proving that innovation retains its value--even when belts are tightening. We're blessed to be hiring thirty more people this year. Needless to say, rockstars only need apply. "
About Fuel Industries
Fuel Industries is a multiple award-winning interactive studio that lives at the intersection of marketing and entertainment. With over 100 employees and presence in Canada, the US, and the UK, Fuel has built audiences by creating entertaining online experiences both for major international brands and its own licensed entertainment properties. Fuel's diverse holdings include interests in game development, video production, sound design, social media, and mobile marketing. Passionate about redefining the interactive agency and inventing the future of online content, Fuel's clients and joint venture partners include Microsoft, Vans, McDonald's Global, and HBO. For additional information, visit http://www.fuelindustries.com.
For more information, please contact:
Nick Iannitti, Director of Communications
613-224-6738 x 273
nick(at)fuelindustries.com
http://www.twitter.com/nickiannitti
###