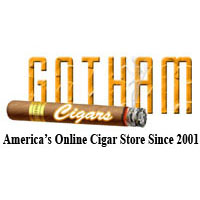 The Rocky Patel Renaissance Cigar was released in 2008 from the El Paraiso factory in Danli Honduras. In order to maintain great flavor and high quality, this cigar is available only in limited quantities
Miami, FL (PRWEB) December 01, 2012
Gotham Cigars, America's leading online cigar store since 2001, announces its closeout deal on Rocky Patel Renaissance Robusto Cigar, a box of 5 packs, consisting of 20 cigars. The cigar is beautifully constructed with a dark brown Ecuadorian Sumatra wrapper. It starts off with a sweet tobacco taste, but quickly turns to a spicy smoke. The flavors experienced through this smoke are mild pepper, vanilla, and chocolate with a back note of cinnamon. The Rocky Patel Renaissance Robusto Cigar is a well balanced smooth smoke with a rich pleasing finish. This elegant cigar can prove to be a perfect addition to any cigar enthusiast's cigar collection.
The Rocky Patel Renaissance Cigar was released in 2008 from the El Paraiso factory in Danli Honduras. In order to maintain great flavor and high quality, this cigar is available only in limited quantities. This premium cigar is spicy and rich, and is offered at Gotham for just $85.00. That is only $4.25 per stick.
Gotham Cigars are proud to offer their customers a full collection of award winning cigars made by Rocky Patel, at the lowest prices. Other selections of premium cigars available at this online store are Arturo Fuente Cigars, Dominican Cigars, Swisher Sweets cigars, Romeo Y Julieta Cigars, Ashton Cigars and many more. The huge selection along with the best customer service makes this cigar store a favorite destination to shop for premium cigars. Discounted prices give customers the opportunity to enjoy a wide range of quality cigar products. By dealing directly with various manufacturers, Gotham purchases the best cigars they can find at the lowest prices.
Gotham Cigars built their business on the three points of five-star customer service, fast shipping and a huge selection, and they strive to provide valued customers with the best online shopping experience possible. Because of this excellence, most trusted online comparison websites have ranked them very high. All the cigars are thoroughly inspected by the manufacturers prior to arriving at the facility. Their website was developed to be easily navigated for the convenience of their customers. To find out more log on to http://www.gothamcigars.com