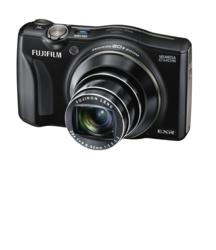 B&H Photo Video is pleased to share the launch of Fujifilm FinePix F800EXR compact long-zoom digital camera.
NYC, NY (PRWEB) July 25, 2012
B&H Photo Video is pleased to share the launch of Fujifilm FinePix F800EXR digital camera that features a new innovative Wireless Image Transfer function that allows users to quickly and easily upload high resolution images to their smartphone or tablet. The F800EXR continues the tradition of superior image quality that the F-Series is known for with its speed, bright lens, intuitive use and advanced features. The new F800EXR also now includes six built-in photographic filters for users to get even more creative with their photography.
The FinePix F800EXR, with Wireless Image Transfer, features a powerful 1/2" 16 MegaPixel EXR-CMOS sensor that delivers superior image quality and performance - especially in low light situations. The F800EXR also uses the bright and fast FUJINON 20x Wide-Angle long-zoom lens (25-500mm) that produces exceptional images, along with an Intelligent Digital Zoom feature that effectively doubles zoom capability and an ultra-clear 3.0" high contrast 460K resolution LCD.
Users who prefer to take more control themselves can also choose from:

EXR HR (High Resolution) priority mode – the sensor utilizes all of its 16 megapixels for the highest quality results.
EXR DR (Dynamic Range) priority mode – takes two pictures and combines them to provide a wide dynamic range of up to 1600%.
EXR SN (Signal to Noise) priority mode – pixels are doubled up to increase sensitivity and give better results in low light conditions.
Sharp, Clear 20x Lens: The Fuji F800EXR camera uses the FUJINON 20x Super Wide-Angle optical zoom lens that produces crisp high resolution results throughout the focal range, from 25mm wide-angle to 500mm telephoto, along with a Super Macro Mode that allow sharp focusing down to 5cm delivering the most brilliant detail possible.
Impressive Speed: With auto focus speeds as fast as 0.16 seconds, the F800EXR delivers outstanding high speed shooting capabilities, up to 8 frames per second (fps) at full resolution (11fps max speed at medium resolution), and full HD movie capture at 1080p (30fps) in stereo.
The FinePix F800EXR offers these additional features:
Intelligent Digital Zoom: With 20x optical zoom, Intelligent Digital Zoom delivers 40x total zoom, and 15x optical zoom extends to 30x total zoom.
HD Movie Capture: Full 1080p HD quality, a mini HDMI port and stereo sound with a high speed movie option for freezing fast moving action at up to an incredible 320fps.
Intelligent Image Stabilization: Intelligent Image Stabilization system provides further improved image quality with reduced blurring and noise in still pictures and even when shooting movies at the full optical zoom or in very low-light.
Amazing panoramic shots: Enhanced Motion Panorama mode that allows users to capture beautiful, seamless 360° panoramic images both horizontally and vertically that show fine detail, low noise and high resolution at 180°, 240˚ or full 360˚ panoramic ranges.
Tracking Auto Focus (AF): Tracks fast moving subjects so they don't escape from the frame in a blur. Subjects will be tracked automatically for as long as it is kept in the frame and the shutter is half-pressed; when users fully press the shutter button your subject will be in the center of the photo in perfect focus.
Shoot in RAW: Images can also be captured in a RAW file for advanced creative work after shooting.
Super Intelligent Flash: A flash control system which efficiently controls the level of flash for a given exposure to produce beautifully balanced flash illumination across the foreground and background.
About B&H Photo Video
As the world's largest source of photography, video and audio equipment, B&H Photo-Video is known worldwide for their attentive, knowledgeable sales force, and excellent customer service, including fast, reliable shipping. Visitors to the website can access a variety of enlightening articles and educational videos. B&H has been satisfying customers worldwide for close to 40 years.