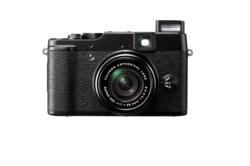 Fuji X10 features a newly-developed, larger 2/3" 12 megapixel EXR CMOS sensor that combines Fujifilm's proprietary EXR technology with CMOS technology to provide bright, sharp images in all shooting conditions.
New York, NY (PRWEB) August 31, 2011
B&H Photo has announced that it will be carrying the New Fuji X10 digital camera, a blacked-out model with a retro look and feel. The camera features a new 2/3", 12-megapixel EXR CMOS sensor and a Fujinon 28–112mm 4x manual zoom lens.
Following in the footsteps of the Fuji X100, the Fujifilm X10 camera combines a black body with a manual barrel zoom lens and an optical viewfinder. The die cast, magnesium-alloy body is wrapped in soothing pebbled vinyl and the milled aluminum zoom ring doubles as an ON/OFF switch.
The Fujifilm X10 automatically selects the optimal shooting mode for any lighting situation, while a fast image processor delivers high-speed continuous shooting at up to seven frames per second at the full 12-megapixel resolution. The glass optical viewfinder presents the subject to the photographer with superior brightness, and superb field of view, with its extra-wide 20-degree viewing angle.
With its power switch integrated into the manual-zoom barrel, photographers can be ready to shoot in almost any situation in less than one second. This, plus a quick shutter release lag time of approximately 0.01-second helps to avoid missed photo opportunities. Features such as Optical Image Stabilization, 49-point matrix contrast autofocus and a pop-up flash can help anyone take better pictures.
The Fuji X10 premium compact underscores that commitment by offering first-class image quality, beautiful styling and the innovative technology that exceeds consumers' expectations.
The X10's thoughtfully laid out design, large EXR CMOS sensor, bright lens and manual zoom make it an outstanding choice when image quality simply cannot be compromised.
The X10's EXR CMOS sensor selects the optimum shooting mode for any lighting situation:

SN (Signal to Noise) High Sensitivity and Low Noise – produces clear and sharp high-sensitivity images while keeping noise levels low, which is ideal for capturing night scenes or indoor situations with poor lighting.
DR (Dynamic Range) Wide Dynamic Range – delivers an increased dynamic range (up to 1600%) to deliver rich gradations and detail in both shadows and highlights.
Bright Optical System
The Fuji X10 features a newly-developed high-definition FUJINON 4x manual zoom lens (28-112mm) with a Super EBC (Electron Beam Coating) that achieves superb image clarity from edge to edge. By treating all of the lens elements with the multilayer Super EBC, the X10 expertly reduces ghosting and lens flare and delivers an impeccably sharp image.
The lens consists of 11 glass lens elements in 9 groups, including 3 aspherical glass lens elements (6 sides) and 2 extra-low dispersion lens elements. Together with its wide-angle maximum aperture of F2.0 to a maximum telephoto aperture of F2.8, the X10 delivers beautiful, bright images with outstanding clarity.
For more information on the Fujifilm X10 read Fujifilm Announces X10 Digital Camera, at B&H Photo InDepth learning center
The Fujifilm X10 will be available from B&H in early November 2011.
About B&H Photo Video
As the world's largest source of photography, video and audio equipment, B&H Photo-Video is known worldwide for their attentive, knowledgeable sales force, and excellent customer service, including fast, reliable shipping. Visitors to the website can access a variety of enlightening articles and educational videos. B&H has been satisfying customers worldwide for over 35 years.
# # #