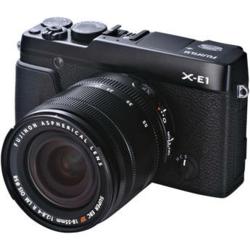 B&H Photo Video is excited to share with the photography industry the release of the Fujifilm Pro rangefinder-style X-E1 camera, built around the 16MP APS-C-format X-Trans CMOS imaging sensor.
NYC, NY (PRWEB) September 06, 2012
B&H Photo Video is excited to share with the photography industry the release of the Fujifilm Pro rangefinder-style X-E1 camera, built around the 16MP APS-C-format X-Trans CMOS imaging sensor.
The Fujifilm X-E1 Digital Camera is the latest addition to the mirrorless camera lineup. With a classic design, magnesium alloy build, and completely state-of-the-art digital technology, the XE-1 will be a favorite for years to come.
X-Trans CMOS sensor's color filter array.
By enhancing aperiodicity (randomness) in the array arrangement, the color filter minimizes generation of both moire and false colors, eliminating the necessity for an optical low-pass filter in the lens, and enabling the X-Trans CMOS sensor to take full advantage of the attached lens. The EXR Processor Pro is supported by an integrated co-processor for higher speed and higher precision image-processing performance.
The Fuji X E1 can also capture 1080p full-HD video at 24 fps, with stereo sound. The shutter range on the X-E1 goes from 30 seconds to 1/4000-second, with a top flash sync speed of 1/180 second. Shutter speeds and apertures can be set in 1/3- stop increments. The ISO ranges from 200 to 6400, which is expandable to an ISO equivalent of 100, 12800, and 25600 when the going gets particularly tough.
The sensor on the X-E1 is Fujiflm's 16.3MP APS-C X-Trans CMOS sensor. The X-Trans produces high-resolution images, and utilizes a color filter array to reduce moiré and false colors, resulting in an exceptionally true-to-life image that other sensors with optical low-pass filters cannot approach.
Fuji has created a unique lens mount for the X-series cameras. With a 10-pin system, the lens instantly sends information to the camera body through the lens mount, meaning fewer adjustments to be made by the photographer, and more time spent shooting. The reinforced mount is only 2.5mm thick, which contributes to the slim profile of the X-E1. The short flange and wide opening of the X-mount means that the lens elements are as close as possible to the sensor, and will achieve high resolution even at the edges and corners of the sensor.
An incredibly high-resolution, 2.36 million-dot OLED electronic viewfinder with a built-in diopter is provided for eye-level composition, and a 2.8" 460K-dot rear LCD monitor for composition and playback is available as well. The LCD monitor has a special anti-reflective coating that reduces glare when viewing in bright sunlight, and is water- and stain-resistant.
Thanks to improved contrast detection, the X-E1 can autofocus in as fast as 0.1 seconds, and continuous high-speed shooting of up to 6 frames per second will allow you to capture fast-moving subjects, whether for their newsworthiness, or simply to send to Grandma. To guarantee that you never miss the action, QuickStart Mode provides a camera start-up time as short as 0.5 seconds. The X-E1 camera body, is machined aluminum alloy.
Fujifilm XF-mount Lenses
To complement the new camera Fujifilm X-E1, Fujifilm is introducing the fast-aperture Fujifilm XF-mount lens. For ultra-wide-angle shooting, the XF 14mm f/2.8 R Ultra Wide-Angle Lens from Fujifilm is designed for its X-Pro 1 and X-E1 interchangeable lens digital camera systems.
The Fuji XF 14mm f/2.8 lens offers high-quality optics and an extreme wide-angle perspective to explore your creativity with the Fujifilm X-Pro 1 and X-E1 digital cameras.
Connect with B&H Photo on the Web! (Facebook, Twitter, Tumblr, Google+, Pinterest, Flickr, YouTube, B&H Insights & InDepth)
About B&H Photo Video
As the world's largest source of photography video and audio equipment, B&H Photo-Video is known worldwide for their attentive, knowledgeable sales force, and excellent customer service, including fast, reliable shipping. Visitors to the website can access a variety of enlightening articles and educational videos. B&H has been satisfying customers worldwide for close to 40 years.