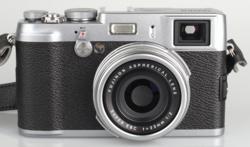 Denver, Colorado (PRWEB) February 02, 2013
Find My Price, new reliable source of tech-related information, has posted the first images of Fujifilm's new digital camera, Fuji X100S on their website. The camera hasn't been officially released yet, but it was long awaited by photography lovers due to its advanced features and improved settings.
According to Sam Nook, editor-in-chief at http://www.findmyprice.net, Fuji X100S is a modernized version of the previous model, X100. On the outside, the two digital cameras look more or less the same, but on the inside, there are numerous performance differences that make Fuji X100S much better than its predecessor.
The images illustrating the much-awaited model are accompanied by detailed product descriptions because reviewers at Find My Price are interested in offering accurate information. Based on their report, the new Fujifilm digital camera has a 16 Megapixel CMOS II sensor that maintains the clarity of the pictures irrespective of the selected light sensitivity or the zoom range.
The 23mm F2 lens is fixed, but the focus is very good, so users won't feel the need to replace it. Moreover, there are two display settings (EVF and Digital Split Image Focusing) that have been added for greater focus control, John Colston added.
The display size is somewhat smaller (2.8 inches) than the ones offered by similar digital cameras, but it helps preserve the retro look of the model. The entire design of the X100S version was elaborated as a reminder of the vintage cameras; thus, the current model is made out of magnesium alloy and the predominant colors are silver and black. Similar to the old models, the X100S features a rubber-like cover that protects the camera and offers users a good grip.
"The entire team at Find My Price has been waiting for the first pictures of Fuji X100S to be released by the manufacturer because the product description made us very curious," John Colston stated. "We figured our readers we're just as curious as we were, so we decided to publish the pics as soon as we received them," he added. Thanks to the preview, tech lovers will know whether the digital camera is worth purchasing or not by the time it will be available on Amazon.
Find My Price, the most reliable e-commerce service provider in America, aims to offer visitors the best tech information they could find on the Internet. For this reason, the website is constantly updated with product reviews, price comparisons and tech recommendations written by professional market analysts.