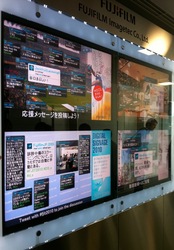 Tokyo, Japan and Cambridge, MA (Vocus) October 21, 2010
FUJIFILM Imagetec Co., Ltd., a subsidiary of FUJIFILM Corporation, and LocaModa Inc., a place-based social media company, today announced that they have signed a new licensing agreement for LocaModa's place-based social media platform, extending and formalizing a collaborative relationship between the two companies.
Earlier this year, the two companies collaborated to develop a Japanese version of LocaModa's place-based social media platform and present technologies and interactive media strategies to a digital out of home conference hosted by FUJIFILM Imagetec. The new agreement enables FUJIFILM Imagetec to develop and sub license LocaModa's platform.
Place-based social media enables digital out of home screens to be much more engaging to audiences, valuable to venues and measurable for advertisers. LocaModa's applications are used by leading digital out of home networks in the US, reaching 100 million people every month in 15,000 venues, including screens in bars, cafes, quick serve restaurants, schools, churches, health clubs and sports arenas as well as huge LEDs in Times Square and Las Vegas.
FUJIFILM Imagetec President, Mr. Koji Sato, commented, "Our agreement with LocaModa is strategically very significant. The first wave of the digital out of home industry was marked by broadcasting technologies, but such technologies are clearly being disrupted by the web. LocaModa pioneered the use of the web and social media to make digital out of home screens more engaging and measurable. Today, they are the leaders in place-based social media in the US, and we welcome the opportunity of leveraging their patented platform in Japan.
LocaModa CEO, Stephen Randall, said, "Social technologies such as Twitter and Facebook prove that people want to be more connected. This isn't limited to web-based and mobile screens, but all screens; in other words, it also benefits out of home screens. On my recent trip to Japan it was evident to me that social media is very popular. For example, at Shibuya Station in Tokyo, we monitored over 70,000 interactions via the location-based application Foursquare. And now with Facebook Places entering Japan, the market is at a tipping point. Engagement with social media is a global phenomenon and so we are delighted that FUJIFILM Imagetec is paving the way for what we call DOOH 2.0 in Japan. This is very encouraging for the digital out of home industry."
Every LocaModa enabled screen can display user generated social streams including email, photos, Twitter and Facebook. Each social stream requires different rules enabling the right content to reach the right screen at the right venue at the right time.
The technology challenge of displaying social media on multiple networks with multiple venues and multiple screens is far more complex than displaying social media on a single screen. LocaModa's patented platform enables every screen to have its own content filtering guidelines, as well as different visualization treatments for specific markets and use cases. In addition, many social streams from sources, including Twitter, require special consideration for the number of times a platform interacts with the APIs (application program interfaces) to maintain a responsive user experience.
FUJIFILM Imagetec will be developing and marketing a range of cross channel place-based social media applications that complement its digital out of home systems. Additionally, FUJIFILM Imagetec aims to sub license LocaModa's place-based social media platform and to be a center of excellence for place-based social media in Japan.
About FUJIFILM Imagetec
FUJIFILM Imagetec services a wide variety of customer's imaging needs including advertising and decoration displays, converting images and manufacturing photo ID cards.
Starting in 2008, utilizing our knowledge of the industry and experience gained from conventional printed sign displays, the company began providing total solutions for digital signage customers including creating and managing content, customizing commercial materials for display, installation and a range of post-installation support services.
FUJIFILM Imagetec is headquartered in Tokyo, JAPAN.
About LocaModa
LocaModa is a place-based social media company, dedicated to helping locations engage customers and brands engage audiences.
The company was founded on the vision that place-based networks, advertisers and venues will need to leverage the web for frictionless media, connectivity to customers, cross channel audiences and measurability. LocaModa enables networks and venues reaching over 100,000,000 people every month in cafes, bars, restaurants, colleges, high-traffic public spaces and at major events.
LocaModa is a privately held company headquartered in Cambridge, MA.
###