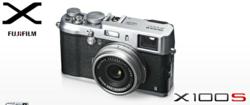 Fujifilm X100S Features: All New APS-C X-Trans CMOS II Sensor and EXR Processor II That Delivers the World's Fastest Autofocus Speed.
NYC, NY (PRWEB) January 09, 2013
B&H Photo has announced that it will be carrying the new Fujifilm X100S high-end, compact camera. The Fujifilm X100S with its APS-C 16M X-Trans CMOS II Sensor & EXR Processor II is leading the way to the ultimate image quality.
New X-Trans CMOS II Sensor and New EXR Processor II
Fuji X100S incorporates the new X-Trans CMOS II Sensor, the successor to the original X-Trans CMOS sensor. It features a unique, highly randomized colour filter arrangement that removes the need for an optical low-pass filter, allowing it to maximize the amount of light it receives directly to capture much finer image details. The X100S effectively reduces noise by almost a full stop, even in low light shooting, to produce crisp images with minimal grain.
Using its newly-developed X-Trans CMOS II Sensor with built-in phase detection, the FUJIFILM X100S is capable of autofocus speeds as fast as 0.08 seconds.Together with the new EXR Processor II, it delivers a start-up time of nearly 0.5 seconds and a shutter lag time of just 0.01 seconds with a shooting interval of 0.5 seconds. The X100S is capable of a burst shooting rate of up to 6 frames per second at the full resolution of 16.3 megapixels.
The Fujifilm X100S features an Intelligent Hybrid Autofocus system that switches between phase and contrast detection, depending on the subject or scene, to achieve the best balance between speed and focus precision.
For the first time ever, the Fuji X100S includes a revolutionary Digital Split Image function that uses the X-Trans CMOS II Sensor's built-in phase detection pixels to display dual images that can be manually focused by the user. A new Focus Peaking function highlights high contrast areas of subjects for precise focusing so that users can achieve perfect focus every time.
High Performance, Bright FUJINON 23mm F2 Fixed Lens
The Fujifilm X100S camera features a FUJINON 23mm F2 fixed lens that consists of 8 elements in 6 groups. This includes a high-performance double-sided aspherical element and highly-refractive converging glass elements that deliver a high level of detailed performance with minimal aberration, excellent sharpness and beautiful colour reproduction. The FUJINON lens also adds a proprietary HT-EBC coating to effectively control image flare and ghosting.
Another strength of the FUJINON 23mm F2 fixed lens is the soft, round-shaped bokeh that is achieved from the 9 blade lens diaphragm that includes a built-in 3-stop ND filter. The FUJINON lens allows users to get as close as 10cm from a subject in macro mode for stunning close-up shots.
High-Speed Continuous Shooting
Maximum High-Speed Continuous Shooting Speed of 6.0fps (max. 31 frames) Shoot at a maximum burst speed of 6 frames per second at full 16-megapixel resolution to capture a series of exposures of moving subjects and other challenging photographic scenes and later select the best shot.
About B&H Photo Video
As the world's largest source of photography video and audio equipment, B&H Photo-Video is known worldwide for their attentive, knowledgeable sales force, and excellent customer service, including fast, reliable shipping. Visitors to the website can access a variety of enlightening articles and educational videos. B&H has been satisfying customers worldwide for close to 40 years.