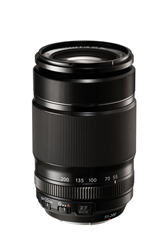 Fujifilm lunched the latest addition to the highly acclaimed series of XF lenses – the XF55-200MM telephoto lens
New York, NY (PRWEB) April 17, 2013
Fujifilm announced the launch of the FUJINON XF55-200mm (83-300mm) F3.5-F4.8 R LM OIS, the first XF telephoto zoom lens for the X-Series interchangeable lens digital camera system that includes the Fuji X-Pro1 and X-E1. The XF55-200mm (83-300mm) F3.5-F4.8 gives photographers a fast aperture across the entire zoom range and outstanding image stabilization for sharp, high resolution images.
The newly designed, advanced telephoto zoom lens to the XF lens line-up will allow photographers that are using the premium X-Pro1 and X-E1 cameras, to gain even more shooting flexibility, and have cutting edge optical technology at their fingertips that enhances the way photographers capture images.
The all new FUJINON XF55-200mm lens gives users a fast F3.5-4.8 lens that produces sharp images across its entire zoom range, from edge-to-edge. Its image stabilization function enables the use of shutter speeds up to 4.5 stops slower, preventing camera shake even when shooting hand-held in low-light situations, or when shooting at a stopped down aperture.
The Fuji XF55-200mm telephoto zoom lens includes two linear motors for high-speed AF of 0.28 seconds to quickly focus on a subject. Together with its high quality metal design, the XF55-200mm lens delivers an easy-to-transport lens with a large maximum aperture for outstanding mobility and performance.
The FUJINON XF55-200mm (83-300mm) F3.5-F4.8 R LM OIS lens features:

An advanced optical design to cover the mid-telephoto (83mm) to telephoto (300mm)
Image stabilization for shutter speeds up to 4.5 stops slower
Two linear motors for high-speed AF and quiet operation
Two ED lens elements and one Super ED lens element for increased performance and effective control against chromatic aberrations
FUJINON's proprietary HT-EBC coating on the entire lens surface to effectively prevent reflections, and control flare and ghosting
Minimum focal distance of 1.1m across the entire zoom range to enable telephoto close-ups
A 1/3EV step aperture ring for users to easily adjust the aperture while holding the camera up to their eye
High quality, metal construction focus ring and aperture ring
B&H Photo is currently accepting pre-orders on the Fuji XF55-200mm telephoto lens.
About B&H Photo Video
As the world's largest source of photography video and audio equipment, B&H Photo-Video is known worldwide for their attentive, knowledgeable sales force, and excellent customer service, including fast, reliable shipping. Visitors to the website can access a variety of enlightening articles and educational videos. B&H has been satisfying customers worldwide for close to 40 years.