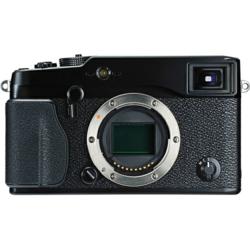 B&H Photo Video is excited to share with the photography industry the release of the all new Fujifilm Pro rangefinder-style X-Pro1 camera
NYC, NY (PRWEB) January 11, 2012
B&H Photo has announced that it will be carrying the New Fuji XPro1 digital camera, a blacked-out model with a retro look and feel. The camera features a new 16MP APS-C format X-Trans CMOS imaging sensor (23.6 x 15.6mm), which is driven by a Fujifilm EXR Pro image processor that enables still capture in the form of JPEG, RAW (RAF format), or JPEG+RAW, one at a time or in bursts of up to six frames per second in Continuous Drive mode.
X-Trans CMOS sensor's color filter array.
By enhancing aperiodicity (randomness) in the array arrangement, the color filter minimizes generation of both moire and false colors, eliminating the necessity for an optical low-pass filter in the lens and enabling the X-Trans CMOS sensor to take full advantage of the attached lens. The EXR Processor Pro is supported by an integrated co-processor for higher speed and higher precision image processing performance.
The Fuji X Pro1 can also capture 1080p full-HD video at 24 fps with stereo sound. The shutter range on the X-Pro1 goes from 30 seconds to 1/4000-second with a top flash sync speed of 1/180-second. Shutter speeds and apertures can be set in 1/3- stop increments. The ISO ranged from 200 to 6400, which is expandable to an ISO equivalent of 100, 12800, and 25600 when the going gets particularly tough.
Like the original X100, the Fujifilm X-Pro1 offers two options for composing and reviewing imagery. The first, in the case of the X-Pro1, is a 3.0 inch, fixed position LCD that sports an impressively high 1,230,000 dots of resolving power. The second is a hybrid viewfinder that can be transformed from optical to EVF with the flip of a switch. The X-Pro 1's LCD and hybrid finder both offer 100% of the total image field for accurate framing in both still and video mode.
When set to its optical position, the X-Pro1's viewfinder is very bright and clear, similar to a rangefinder. When switched to EVF mode, exposure data can be displayed along the edges of the frame and you can also view exposure and white balance adjustments you might make in real time.
In terms of construction, the top and base plate of the Fujifilm X-Pro1 are made from die-cast aluminum alloy and feature elegant design touches that include precision engraving on the top plate and hand-enameled lettering on the camera's dedicated XF-series lens system. The camera's shutter speed and exposure compensation dials are milled from solid metal and feature lock mechanisms that prevent you from inadvertently changing settings. Even the lens hoods are machined from aluminum and not less expensive polymer materials. To round things out, finely textured faux-leather materials wrap around the front and side panels of the camera body.
Tradition-minded photographers will appreciate the selection of film-emulation modes featured on the Fujifilm X-Pro1. Included among these film emulations are two Negative Film modes, Velvia for more saturated, vivid colors, Astia for soft skin tones, and Provia for natural color renditions. There's also an Enhance Monochrome mode that can emulate the look of red, yellow, and green filters when shooting black-and-white film mode through these aforementioned filters.
Fujifilm XF-mount Lenses
To complement the new camera Fujifilm X-Pro1, Fujifilm is introducing three fast-aperture Fujifilm XF-mount lenses, each of which, like the X-Pro1 camera body, is machined aluminum alloy. For wide-angle shooting, Fujifilm has an 18mm f/2.0 XF R (27mm equivalent), which contains eight elements in seven groups including two aspheric lenses, and focuses down to 7" (18cm); a 35mm f/1.4 XF R normal lens (53mm equivalent), which contains eight elements in six groups including one aspheric lens, and focuses down to 11" (28cm); and a 60mm f/2.4 XF macro lens that contains ten elements in eight groups including one aspheric lens and an ED element, which focuses down to 10.5" (26.7cm) for a maximum magnification ratio of 0.5x.
About B&H Photo Video
As the world's largest source of photography video and audio equipment, B&H Photo-Video is known worldwide for their attentive, knowledgeable sales force, and excellent customer service, including fast, reliable shipping. Visitors to the website can access a variety of enlightening articles and educational videos. B&H has been satisfying customers worldwide for close to 40 years.
###