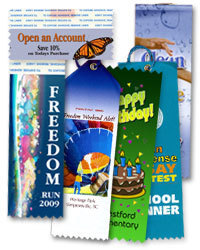 Salt Lake City, Utah (PRWEB) March 18, 2009
Name Tag, Inc., a leading online provider of personal identification products since 1995, is proud to announce the release of the Full Color Printed Ribbon product line. Since 2003, Name Tag, Inc. has been servicing the ribbon printing needs of its customers through a hot-stamping process and while the imprinting results of the hot-stamping process produce a respectable ribbon, the Full Color Printing Process offers a wide range of opportunities and new services that were not previously possible.
As opposed to the hot-stamping process, which requires the set up of a separate foil for each color and a polymer or metal die to physically heat-stamp the foil onto the ribbon, the printing process takes an image and prints it directly on to the surface of the ribbon. This new method not only accepts a wider range of image formats, it also provides the capabilities to print fully colored images and gradients.
Clyde Coller, CEO and founder of the company, is excited by the new opportunities created by the new printed ribbon product line: "Our existing hot-stamping process has met a good majority of the ribbon needs that we service. However, we have not been able to accommodate all of our customers in the past because we did not have the ability to print a full color ribbon. While we were able to hot-stamp a color logo fairly easily, if a customer asked to have an actual image or different gradients printed on a ribbon, this has not been a possibility with our current system. The new color printing system changes all of this - essentially anything a customer can imagine, we now can create."
Clyde continues, "Ribbons are really a unique product in our product mix. While you can use them as a stand-alone item, they usually work best as a complementary piece with a name tag or badge holder. Unlike name tags, however, ribbons are easily interchangeable, or rotated through, without a significant cost, so they are truly a great promotional piece that can be used for nearly any occasion. I am anxious to see how our new printed process will be adopted and creatively used by our customers."
The new Full Color Printing Ribbon product line is available in 6 different styles and can be found at: http://www.nametag.com/custom_ribbons.shtml or at our new http://www.personalized-ribbons.com web site.
About Name Tag, Inc.:
From non-profit organizations to Fortune 500 Companies, Name Tag, Inc. has been servicing the personal identification industry for more than a decade. Name tags, lanyards, name plates, printed ribbons and much more -- Name Tag, Inc. is your one-stop source for all of your personal identification needs.
###