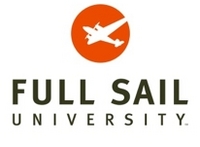 It is a great honor to be recognized
Winter Park, FL (Vocus) March 4, 2010
Full Sail University, (http://www.fullsail.edu) an entertainment media institution near Orlando, Florida, is proud to announce it was recently named one of the top 50 undergraduate Game Design Programs out of 500 evaluated by The Princeton Review, created in partnership with GamePro Magazine.
The list is reported in GamePro's April 2010 issue, as well as on the website of The Princeton Review and GamePro. The Princeton Review selected these 50 game design institutions based on a survey it conducted in 2009-10 offering game design coursework and/or degrees.
"We salute Full Sail University and the other outstanding institutions on our list for their exemplary work in game design education. It has long been our mission at The Princeton Review to help students research and get into the education programs best for them," said Robert Franek, The Princeton Review SVP/Publisher. "We are also committed to helping them carry that training to rewarding careers in fields they are passionate about. For the burgeoning numbers of students aspiring to careers in the rapidly growing field of game design and the companies that will need their creative talents, we hope our list will inspire many wonderful candidates to apply to these programs."
Full Sail University offers various game degree programs: Game Development Bachelor of Science Degree Program, Game Art Bachelor of Science Degree Program, and Game Design Master of Science Degree Program; as well as Game Design Bachelor of Science Online Degree Program, and Game Art Bachelor of Science Online Degree Program.
"It is a great honor to be recognized," said Rob Catto, Program Director of Game Studies and Math. "This goes to show how much time and dedication goes into building the precise curriculum to teach our students how to prepare for a creative and competitive career in the gaming industry."
About Full Sail University:
Since 1979, Full Sail University, located outside of Orlando, FL, has been an innovative educational leader for those pursuing careers in the entertainment industry. With over 34,500 alumni, graduate credits include work on OSCAR® , Emmy® and GRAMMY®-winning projects, best-selling video games, and #1 grossing U.S. concert tours. Full Sail's 191-acre campus and online education platform proudly welcomes over 8,800 students from 50 states and 57 countries.
Full Sail currently offers a total of 28 degree programs including: Associate of Science Degrees in Graphic Design and Recording Engineering; Bachelor of Science Degrees offered in: Computer Animation, Digital Arts & Design, Entertainment Business, Film, Game Art, Game Design, Game Development, Graphic Design, Internet Marketing, Music Business, Music Production, Recording Arts, Show Production, and Web Design & Development; Master of Science Degrees in Education Media Design & Technology, Game Design, Entertainment Business, and Internet Marketing; and Master of Fine Arts Degrees in Creative Writing and Media Design.
Full Sail was most recently named the 2009 IT Florida "Leader of the Year" as well as "Best Company" in the 2009 Orlando Business Journal's Reader's Choice Awards. In addition, Full Sail University has been recognized as the 2008 "School/College of the Year" by the Florida Association of Postsecondary Schools and Colleges and has also been previously named: The Harvard of Game Schools by Tips & Tricks Magazine; one of the top three New Media Schools by Shift Magazine (alongside the Massachusetts Institute of Technology and New York University); one of the Top Five Game Degree Programs in the world by Electronic Gaming Monthly; one of the Best Music Programs in the country by Rolling Stone Magazine; one of the Best Music Business Departments in the Schools That Rock: The Rolling Stone College Guide; and one of the Best Film Programs in the country by UNleashed Magazine.
For more information about Full Sail, please visit http://www.fullsail.edu.
Contact:
Alexander Camman
Public Relations Coordinator
407-679-0100, ext 5870
###