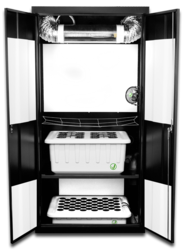 The all new Deluxe 3.0 Grow Box with a revamped hydroponic system.
Fort Lauderdale, Florida (PRWEB) May 04, 2012
As a leader in the hydroponics industry, Fullbloom is a provider of quality customer service and hydroponics equipment. As part of their diverse product lineup, Fullbloom Hydroponics is proud to carry the all-new Deluxe 3.0 Grow Box, manufactured in San Francisco, CA.
The Deluxe 3.0 is manufactured from the highest quality components. The end result is a grow box that provides years of faultless growing; Producing countless pounds of fruit and vegetables. The box is designed to provide maximum airflow while still removing undesirable odors from the air. The Cool Tube grow light is air cooled, so the interior of the grow box remains at a constant and ideal temperature for plants. The included SuperPonics hydroponic system has been redesigned to provide even higher yields than the previous version.
Numerous other components are included with every grow box. The systems carried by Fullbloom Hydroponics are designed to be turn-key and customer friendly. The grow boxes are capable of supporting plants from start to finish without the need for additional accessories. Not only does the box include everything needed for a grower to be successful, but it is also very quiet. The Deluxe 3.0 is a high yielding stealth grow box because of its efficient use of space and ultra-quiet design.
About Fullbloom Hydroponics:
Fullbloom is a leader in innovative hydroponics technology with its customer centric services and easy to use indoor gardening equipment. Click here to visit Fullbloom Hydroponics.