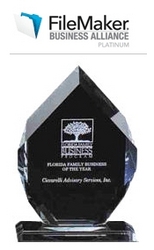 As a business database tool, FileMaker hands down gets the best results with a smaller development investment.
Red Hook, NY (PRWEB) October 8, 2010
FullCity Consulting, a company specializing in FileMaker and web database solutions, celebrates their 10 year anniversary this month. With the creation of their third FileMaker user group and FileMaker's launch of an exciting new mobile database application that is revving things up, FullCity Consulting is moving forward into its next ten years with enthusiasm.
In 2000, Adam Aronson, founded FullCity Consulting knowing that he had a knack for solving technological challenges. Adam soon discovered that he truly enjoyed helping people find out what makes their job cumbersome and showing them how technology can make those things better or allow them to do things they never thought were possible. It is on this principle that FullCity still operates today - every employee has a passion for creating FileMaker solutions to meet their clients' needs. No matter if it's their biggest customer - a banking institution or a small local online e-commerce business - it's seeing how these people make their businesses better with FileMaker that drives them.
FullCity Consulting has grown to now have five dedicated employees, all of which are at the top of their field. In 2005 they began facilitating regional user groups to create a community where ideas can be freely exchanged and a local forum for FileMaker to come and speak to their customers including developers and users. This month, their third user group launches - the Central New York FileMaker Developer Group based in Syracuse, NY. Additionally, in 2007 they were awarded platinum level FileMaker Business Alliance status - meaning they are one of the top 40 FileMaker consulting companies worldwide. That same year FullCity was awarded Business Partner of the Year for America by FileMaker.
Throughout the last decade software has been developed to include remote tools for the interaction of work groups and applications that make businesses more efficient. These remote tools have allowed FullCity Consulting to support clients anywhere, from China to the Hudson Valley of New York where their primary office is located. "Face to face time is still so important and we still travel to our customers to meet and talk through their situations," says Adam, "but it's the day-to-day, hands-on work that has been revolutionized with new remote tools." In fact, half of the FullCity team is remote - technology and infrastructure allows them to be in many places in one day.
Also in recent years, the economical shift has had an impact on the consulting business. The need for businesses to be more efficient and get a larger ROI from their FileMaker solutions becomes more important than ever during tough economic times, and the FullCity team does just that. "The ability for people to make small investments with large results has become a high priority in the last few years," notes Adam. "As a business database tool, FileMaker hands down gets the best results with a smaller development investment."
Moving forward the FullCity Consulting team will continue to investigate new tools to utilize for their clients and they are keen on seeing how mobile devices will continue to evolve. The new FileMaker Go application for the iPad and iPhone is the latest and greatest to hit the market. "It's arguably the killer app on the iPad because it's a business database application that allows you to take all of your data with you through a live data connection," says Adam. "Seeing how this ubiquitous access to data via mobile devices is going to change how our customers are using their data is exciting, uncharted land."
Everyone at FullCity Consulting believes in what they are doing and they hope to carry that energy into the next ten years of business. "It's as much my staff's success as it is mine that we have made it this far", notes Adam. "With FileMaker development stronger than ever we are excited to see what's next."
For more information or to receive a free consulting in celebration of their ten year anniversary, contact Adam Aronson at Adam (at) FullCityConsulting (dot) com or visit http://www.fullcityconsulting.com
About FullCity Consulting
FullCity Consulting is a FileMaker and web database solution consulting company based in the Hudson Valley of New York. Their specialty is the design, development, implementation and support of customized FileMaker database solutions that efficiently use data technology at both the workgroup and enterprise levels with systems that are designed to keep growing with your business. For more information please visit http://www.fullcityconsulting.com.
###