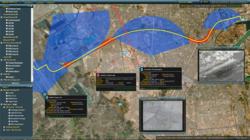 Deployed as a compact, commercial appliance or software package Ageon ISR supports true plug-n'-play compatibility with most ISR sensors and systems.
Boston, MA (Vocus/PRWEB) February 10, 2011
U.S. defense and intelligence officials have been increasingly vocal about their need for a better capability to process, exploit and disseminate ISR data on the battlefield. Many fielded systems have struggled to keep pace with ever-changing requirements - today's budget environment poses a further challenge. Now, DRG seeks to address this head on with the release of its Ageon ISR solution.
Deployed as a compact, commercial appliance or software package Ageon ISR supports true plug-n'-play compatibility with most ISR sensors and systems. Video and data from airborne platforms, aerostats, towers, mobile and ground sensors can be displayed within context of the air, ground and maritime operating picture. An overlay of local and network-wide observation, event and intelligence reporting further enhance the warfighters ability plan, protect and respond. Automated device and network detection ensures reliable delivery and responsible use of limited bandwidth.
Using nothing more than a web-browser on their existing desktop, laptop or mobile device users receive and collaborate around real-time and historic video, imagery, operations and intelligence data. A mobile app allows in-vehicle and dismounted units to quickly create and share spot reports, photos, video and more. Automated video tagging, ISR coverage alerts and email notifications help to reduce the resources required to maintain awareness and identify critical activity. An augmented video scene displays geospatially positioned assets, personnel and tracks of interest. GIS tools support map layer drawing, import, export and analysis.
Currently being fielded in airborne workstation, ground station and remote edge configurations Ageon ISR was built with flexibility and interoperability in mind. Ageon ISR can be deployed as a robust stand-alone capability or seamlessly integrated with existing DoD or NATO systems.
"Ageon ISR is a robust capability with an emphasis on interoperability at the system level and ease of operation at the user level." said Stephen St. Mary Vice President of DRG. "By simplifying deployment, operation and support, we're enhancing the warfighters capability without increasing their load or complicating the technology."
Already, DRG is finding a receptive audience within defense, intelligence and security communities both at home and abroad. Ageon ISR has recently deployed to OEF/OIF and is now operating on classified networks within the intelligence community. Currently, DRG is preparing to customize and ship a number of airborne workstation and ground station packages to an undisclosed foreign government.
Headquartered in Boston, MA, Digital Results Group (DRG) is a leader in the development of innovative technologies that support critical defense, intelligence and security missions. By fusing real-time sensor, operations and intelligence data, DRG delivers best-in-class command, control and communications capabilities across all echelons.
For more information visit: http://www.digitalresultsgroup.com.
###