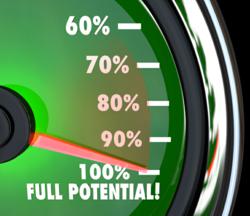 Logic takes you from A to B but Re-Marketing takes you everywhere.
(PRWEB UK) 22 November 2012
What is the future of Marketing? "Unquestionably digital. As marketing and advertising budgets are hit by economic depressions, digital one to one marketing shows a persistently healthy growth. And the trend is here to stay and become more dominant. As Marketing continues to evolve, it is the customers who are determining by who and when they are engaged and how they want to be communicated to" advises Damien Mooney (Managing Director Full Potential Marketing Ltd based in Cheshire).
Today - Businesses are starting to recognise the importance of Re-marketing, but still dont fully understand what skills or strategies are really needed to deliver Re-marketing to it's full potential.
Google and Facebook are pushing Re-marketing aggressively as part of their strategies. With the online world moving to Re-marketing so quickly the question for many marketers and business owners is: How can we get ready to take advantage of Re-marketing in my business?" says Mooney
Mooney continues "Lots and lots of research and measurement is done online, especially by larger companies, to understand the buying and web behaviour of people who use the internet. It is extremely important to understand this, especially for the larger companies. If they can make a small shift in people's behaviour, its worth tens of millions to them. However, this breakthrough is not just limited to large companies. Every company who utilise digital marketing within their marketing mix, can now reap the rewards. Reasearch has shown, that on average only 1% of people who visit a typical website take any action when they go to that website. This is what we call the 1% rule. Full Potential Marketing Ltd understand this issue. The Managing Director advises "It is a really big problem for business owners. It means that even if you have got a really good website, product, service and sales strategy then 99% (okay 98% if really lucky) of people who come to your website are going to continue "surfing" regardless of anything you do or say. Off they go, get distracted and never come back......Bye Bye customer......BYE BYE PROFITS."
Full Potential marketing Managing Director Mooney continues "This was a huge problem and we did all sorts of things to combat it....permission marketing and or lead generation online. With Re-marketing, you can keep communicating to that 99% (or if you are doing permission marketing or lead generation, 85-90%) who leave and never hear from them again, however there are effective advanced strategies to put you light years ahead of your competition"
Re-marketing really is one of the real breakthroughs in the world of Internet marketing and the business world altogether.
Achieve Your Full Potential - http://www.fullpotentialmarketing.co.uk)