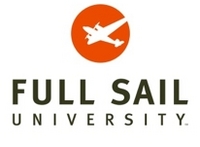 We are extremely proud to share the message of Full Sail University with the community through this innovative television spot that showcases the talents of the graduates we employ
Winter Park, FL (Vocus) March 9, 2010
Full Sail University (http://www.fullsail.edu), an award-winning entertainment media institution near Orlando, FL, is proud to announce that on Saturday, February 27, 2010, their in-house design agency, Platinum Creative, was awarded a Gold ADDY® Award in Local TV for their innovative "Creative Minds" television campaign.
Located on the campus of Full Sail University, and comprised mainly of the institution's graduates, Platinum Creative is a renowned design agency whose past accolades include: winner of both Gold and Silver W3 Awards, 2008 Webby Award winner, and holds numerous Gold and Silver ADDY® Awards on national, regional, and local levels.
This year, the agency focused on their recent branding initiative, which features several degree programs the university offers including Recording Arts, Film, and Game Development. In order to bring the winning local TV spot to life for the "Creative Minds" campaign, the agency managed to cast, shoot, script, edit, animate, and sound engineer the entire piece.
"We are extremely proud to share the message of Full Sail University with the community through this innovative television spot that showcases the talents of the graduates we employ," said Craig Daily, Vice President & Creative Director of Platinum Creative. "It is a tremendous honor to have been awarded the Gold ADDY® Award as we strive to achieve excellence through unique design and meaningful messaging."
The ADDY® Awards, which began in Florida, represent the true spirit of creative excellence by recognizing all forms of advertising from media of all types, creative by all sizes, and entrants of all levels from around the globe. The 2010 Orlando ADDY® Awards were held at the Orlando Science Center, and hosted by the American Advertising Federation, The American Advertising Federation-Orlando, 4th District AAF and Ad2 Orlando.
About Full Sail University:
Since 1979, Full Sail University, located outside of Orlando, FL, has been an innovative educational leader for those pursuing careers in the entertainment industry. With over 34,500 alumni, graduate credits include work on OSCAR®, Emmy® and GRAMMY®-winning projects, best-selling video games, and #1 grossing U.S. concert tours. Full Sail's 191-acre campus and online education platform proudly welcomes over 8,800 students from 50 states and 57 countries.
Full Sail currently offers a total of 28 degree programs including: Associate of Science Degrees in Graphic Design and Recording Engineering; Bachelor of Science Degrees offered in: Computer Animation, Digital Arts & Design, Entertainment Business, Film, Game Art, Game Design, Game Development, Graphic Design, Internet Marketing, Music Business, Music Production, Recording Arts, Show Production, and Web Design & Development; Master of Science Degrees in Education Media Design & Technology, Game Design, Entertainment Business, and Internet Marketing; and Master of Fine Arts Degrees in Creative Writing and Media Design.
Full Sail was most recently named the 2009 IT Florida "Leader of the Year" as well as "Best Company" in the 2009 Orlando Business Journal's Reader's Choice Awards. In addition, Full Sail University has been recognized as the 2008 "School/College of the Year" by the Florida Association of Postsecondary Schools and Colleges and has also been previously named: The Harvard of Game Schools by Tips & Tricks Magazine; one of the top three New Media Schools by Shift Magazine (alongside the Massachusetts Institute of Technology and New York University); one of the Top Five Game Degree Programs in the world by Electronic Gaming Monthly; one of the Best Music Programs in the country by Rolling Stone Magazine; one of the Best Music Business Departments in the Schools That Rock: The Rolling Stone College Guide; and one of the Best Film Programs in the country by UNleashed Magazine.
For more information about Full Sail, please visit http://www.fullsail.edu.
Contact:
Casey King-Tanous
Public Relations Specialist
407-679-0100, ext.5161
Kristin Weissman
Director of Public Relations
407-679-0100, ext. 5908
# # #