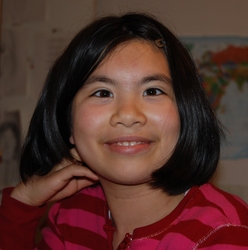 "As we grow up in more technology-enriched environments, filled with laptops and smart phones, technology is not just becoming a part of our daily lives – it's becoming a part of each and every one of us,"
Winter Park, FL (PRWEB) October 16, 2010
Full Sail University (fullsail.edu), is proud to announce that on Tuesday, October 19, 2010, 13-year-old author, teacher, speaker, and activist Adora Svitak (adorasvitak.com), will provide a presentation entitled, Catch Us If You Can: Learning and Teaching in the 21st Century. The presentation addresses creativity, reciprocal learning, and various topics pertinent to education. Joining Adora on stage is her sister, Adrianna Svitak, an accomplished pianist and violinist, who will play featured selections.
Having been a published author since the age of seven, Adora has gained recognition for her work and has appeared in numerous web and print sources for publications The New York Times, The Huffington Post, and Mashable, while also being featured on television and radio outlets including CNN, NBC, ABC, Voice of America, and BBC. Adora's additional past speaking engagements include the prestigious TEDTalks conference and the National Center for Family Literacy's annual convention where she shared the spotlight with actor, James Earl Jones.
During the presentation at Full Sail, Adora, the writer, and her sister Adrianna, the musician, will share insight into their roles as excellent examples of different intelligences amongst learners. "Adora and Adrianna are inspirational examples who further support the educational philosophy that we embrace and promote daily here at Full Sail," said Ani Gasti, Director of Faculty Development. "We are thrilled to have them share how they both maximize their potential by nurturing their unique talents and passions."
"As we grow up in more technology-enriched environments, filled with laptops and smart phones, technology is not just becoming a part of our daily lives – it's becoming a part of each and every one of us," Adora remarked in anticipation of addressing the Full Sail community. "To try to teach ignoring technology is to ignore the progress that we have made over the last century. If school is preparation for the real world - a real world that is increasingly technology-driven - then to ignore technology is to become obsolete. I applaud Full Sail University for embracing and leveraging technology throughout their educational offerings."
About Full Sail University:
Since 1979, Full Sail University, located outside of Orlando, FL, has been an innovative educational leader for those pursuing careers in the entertainment industry. With over 34,500 alumni, graduate credits include work on OSCAR®, Emmy® and GRAMMY®-winning projects, best-selling video games, and #1 grossing U.S. concert tours. Full Sail's 191-acre campus and online education platform proudly welcomes over 12,400 students from 50 states and 49 countries.
Full Sail currently offers a total of 28 campus and online degree programs including: Associate of Science Degrees in Graphic Design and Recording Engineering; Bachelor of Science Degrees offered in: Computer Animation, Digital Arts & Design, Entertainment Business, Film, Game Art, Game Design, Game Development, Graphic Design, Internet Marketing, Music Business, Music Production, Recording Arts, Show Production, and Web Design & Development; Master of Science Degrees in Education Media Design & Technology, Game Design, Entertainment Business, and Internet Marketing; and Master of Fine Arts Degrees in Creative Writing and Media Design.
Full Sail was named the 2008 "School/College of the Year" by the Florida Association of Postsecondary Schools and Colleges. The university has also been previously named: The Harvard of Game Schools by Tips & Tricks Magazine; one of the top three New Media Schools by Shift Magazine (alongside the Massachusetts Institute of Technology and New York University); one of the Top Five Game Degree Programs in the world by Electronic Gaming Monthly; one of the Best Music Programs in the country by Rolling Stone Magazine; one of the Best Music Business Departments in the Schools That Rock: The Rolling Stone College Guide; and one of the Best Film Programs in the country by UNleashed Magazine.
For more information about Full Sail, please visit http://www.fullsail.edu.
###