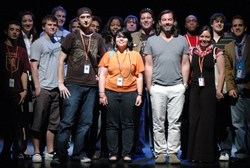 "Full Sail University is deeply honored to have Duncan share his time and talent with our students"
Winter Park, FL (PRWEB) March 31, 2010
On March 26, 2010, Full Sail University (fullsail.edu) was pleased to welcome GRAMMY®-winning singer/songwriter, Duncan Sheik who conducted a Q&A with a group of select Full Sail University students, staff, and faculty.
Most popular for his GRAMMY-nominated hit Barely Breathing, Sheik has taken his skills and shifted them toward the Broadway stage, most notably in the Tony®-winning musical, Spring Awakening. The invite-only event was held at the downtown Plaza Theater where Sheik answered questions from the student audience from various degree programs such as Entertainment Business, Music Business, Show Production, and Recording Arts. Among other topics, Sheik spoke about his thoughts on the continually changing music industry, his work on various projects and shows, and his transition from pop music to film and musical theater.
"Full Sail University is deeply honored to have Duncan share his time and talent with our students," said Dana Roun, Director of Audio Programs for Full Sail University. "Providing our students another incredible opportunity to hear from a GRAMMY®-winning recording artist is the best way for our students to hear about real life experiences in the music industry and to further inspire them to strive to go beyond industry standards to achieve their dreams."
About Full Sail University:
Since 1979, Full Sail University, located outside of Orlando, FL, has been an innovative educational leader for those pursuing careers in the entertainment industry. With over 34,500 alumni, graduate credits include work on OSCAR®, Emmy® and GRAMMY®-winning projects, best-selling video games, and #1 grossing U.S. concert tours. Full Sail's 191-acre campus and online education platform proudly welcomes over 8,800 students from 50 states and 57 countries.
Full Sail currently offers a total of 28 degree programs including: Associate of Science Degrees in Graphic Design and Recording Engineering; Bachelor of Science Degrees offered in: Computer Animation, Digital Arts & Design, Entertainment Business, Film, Game Art, Game Design, Game Development, Graphic Design, Internet Marketing, Music Business, Music Production, Recording Arts, Show Production, and Web Design & Development; Master of Science Degrees in Education Media Design & Technology, Game Design, Entertainment Business, and Internet Marketing; and Master of Fine Arts Degrees in Creative Writing and Media Design.
Full Sail was most recently named the 2009 IT Florida "Leader of the Year" as well as "Best Company" in the 2009 Orlando Business Journal's Reader's Choice Awards. In addition, Full Sail University has been recognized as the 2008 "School/College of the Year" by the Florida Association of Postsecondary Schools and Colleges and has also been previously named: The Harvard of Game Schools by Tips & Tricks Magazine; one of the top three New Media Schools by Shift Magazine (alongside the Massachusetts Institute of Technology and New York University); one of the Top Five Game Degree Programs in the world by Electronic Gaming Monthly; one of the Best Music Programs in the country by Rolling Stone Magazine; one of the Best Music Business Departments in the Schools That Rock: The Rolling Stone College Guide; and one of the Best Film Programs in the country by UNleashed Magazine.
For more information about Full Sail, please visit http://www.fullsail.edu.
###