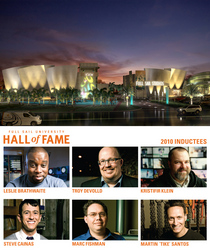 As we unveil this new landmark project for Full Sail University, we are humbled that so many industry leaders and special friends are traveling from all over the country to join us to celebrate and honor our Hall of Fame graduates.
Winter Park, FL (PRWEB) May 28, 2010
On June 7, 2010, Full Sail University (fullsail.edu) will cut the ribbon on the opening of the Full Sail Studios Gateway Project, a 22,000 sq. ft. multi-purpose facility that features a 500-seat venue and world class game production and recording studio spaces. To commemorate the opening, the morning will include an induction ceremony for the Full Sail University 2010 Hall of Fame class and begin a three-day series of special events and celebrity and industry leader appearances.
Highlights of the Gateway Project feature an illuminated Full Sail Studios main archway entrance that leads to the venue plaza, and serves as the official entrance to Full Sail's Hollywood-style film Backlot. The project added the final phase to complete the existing Backlot with a 35' high expansion to the Amsterdam façade. The Backlot will now total 2078 linear feet and offer 19 different outdoor scenic environments. The WIFI equipped plaza includes hardscape architectural elements with bike trails and seating areas equipped with evening LED lights, and serves as a networking hub for students, staff and faculty.
The building that houses the game production and recording studios is a two-story 10,600 sq. ft. space. The ground floor holds a new flagship-recording studio that incorporates recording technology and variable acoustic isolation areas that can be utilized by both students and professionals. The hallways feature oversized acoustic windows that allow guests to easily view the recording process.
The second floor game production studio space is created to duplicate all of the facilities common to a game studio. The space has areas designed for audio, graphic and technical development, as well as team meeting rooms and production offices. While working on final projects, students will experience the atmosphere associated with a professional studio environment. For further details on this project, please visit our Full Sail Studios Groundbreaking press release.
Immediately following the ribbon cutting, Full Sail will hold the Hall of Fame induction ceremony which honors six of Full Sail's most accomplished graduates spanning the entertainment industry. These graduates are: Leslie Brathwaite: GRAMMY®-award winning Mix Engineer; Steve Cainas: Production Coordinator for feature films and top rated prime time series, including LOST; Troy DeVolld: Emmy-nominated Supervising Producer; Marc Fishman: Sound Re-Recording Mixer for feature films and Emmy-winner for the HBO series, John Adams; Kristifir Klein: Set Modeling Lead at Pixar Animation Studios; and Martin "Tike" Santos: Live Sound Engineer/Technician for artists including Peter Frampton, Faith Hill, and Paul McCartney. For more information on the Hall of Fame graduates and a full listing of their credits, please visit our press release.
The Hall of Fame event will welcome celebrity and industry friends of Full Sail and will include: Tionne "T-Boz" Watkins of the GRAMMY-winning group, TLC who will be inducting Hall of Fame graduate, Brathwaite, and How to Train Your Dragon co-director, Dean DeBlois who will be inducting graduate Klein. Guests will also include musical artists Deborah Gibson, Chris Kirkpatrick of N'Sync, Fred Schneider of The B-52's, Jeff Timmons of 98 Degrees, The Superions, celebrity chef Jon Ashton, and local singing sensation, Gina Marie Incandela who has performed for the Orlando Magic and who has been called by industry experts the "one in a million voice." In addition, DeBlois and Watkins will be involved in the schedule of exclusive presentations held later that week.
Also in attendance for the Hall of Fame ceremony and event ribbon cutting will be: Florida Senate President Jeff Atwater, Speaker Designate of the Florida House of Representatives Dean Cannon, Orange County Mayor Richard Crotty, Orange County Commissioner and Mayoral candidate Bill Segal, and President & CEO of the Metro Orlando Economic Development Commission Ray Gilley.
"As we unveil this new landmark project for Full Sail University, we are humbled that so many industry leaders and special friends are traveling from all over the country to join us to celebrate and honor our Hall of Fame graduates," said Chief Operating Officer, Ken Goldstone. "The Gateway Studios Project will not only bring another state-of-the-art complex to the campus, but reinforces our commitment to broaden the cultural landscape for our students, staff and the Central Florida community at large."
In addition, the venue opening and Hall of Fame event will be supported throughout June 7, 8, and 9 with on-campus concerts, celebrity guests, and one-of-a-kind meet-and-greet opportunities, forums, and lectures for Full Sail students and staff. Topics such as live production, scriptwriting, audio engineering and production, postproduction, animation, and game development will be featured. Presentations will be hosted by a wide variety of guests, including this year's Hall of Fame inductors – Watkins, DeBlois, and Fame and Underworld: Rise of the Lycans Executive Producer, Beth DePatie, as well as 2009 Hall of Fame inductees Phil Tan and Sebastian Krys, and multiple grads who worked on the production of Rockstar Games' recent smash hit Red Dead Redemption.The momentum from the opening of this new landmark campus project will continue in the weeks and months to come, with a presentation in late June by editors from the television program LOST, and additional future events will also be announced.
"The core of Full Sail University's success has always been centered around our students, their achievements, and the fulfillment of their aspirations as graduates," said Garry Jones, President of Full Sail University. "The Hall of Fame represents decades of outstanding creative and technical contributions by our alumni to thousands of entertainment industry projects, and their influence and leadership in the industry at large. Through the Full Sail University Hall of Fame and the opening of the Gateway Project, we honor these extraordinary graduates who have paved the way for the many more who will follow in their footsteps."
About Full Sail University:
Since 1979, Full Sail University, located outside of Orlando, FL, has been an innovative educational leader for those pursuing careers in the entertainment industry. With over 34,000 alumni, graduate credits include work on OSCAR®, Emmy® and GRAMMY®-winning projects, best-selling video games, and #1 grossing U.S. concert tours. Full Sail's 191-acre campus and online education platform proudly welcomes over 8,800 students from 50 states and 57 countries.
Full Sail currently offers a total of 28 degree programs including: Associate of Science Degrees in Graphic Design and Recording Engineering; Bachelor of Science Degrees offered in: Computer Animation, Digital Arts & Design, Entertainment Business, Film, Game Art, Game Design, Game Development, Graphic Design, Internet Marketing, Music Business, Music Production, Recording Arts, Show Production, and Web Design & Development; Master of Science Degrees in Education Media Design & Technology, Game Design, Entertainment Business, and Internet Marketing; and Master of Fine Arts Degrees in Creative Writing and Media Design.
Full Sail was most recently named the 2008 "School/College of the Year" by the Florida Association of Postsecondary Schools and Colleges. The university has also been previously named: The Harvard of Game Schools by Tips & Tricks Magazine; one of the top three New Media Schools by Shift Magazine (alongside the Massachusetts Institute of Technology and New York University); one of the Top Five Game Degree Programs in the world by Electronic Gaming Monthly; one of the Best Music Programs in the country by Rolling Stone Magazine; one of the Best Music Business Departments in the Schools That Rock: The Rolling Stone College Guide; and one of the Best Film Programs in the country by UNleashed Magazine.
For more information about Full Sail, please visit http://www.fullsail.edu.
# # #