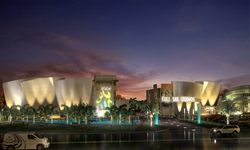 This project alone will mean work for nearly 1,000 people through the various trades and supply chains.
Winter Park, FL (PRWEB) February 20, 2009
Winter Park, FL - Full Sail University (fullsail.edu) will hold a groundbreaking event on Tuesday, February 24, 2009 to announce and unveil the renderings of the new Full Sail Studios Gateway project, a 2.2 acre landmark project that includes a multi-purpose/live performance venue, a two-story studio complex which holds a state-of-the-art game production studio and flagship recording studio, an outdoor plaza courtyard, and an expansion to the on-campus professional film studio Backlot.
The Full Sail team, in partnership with MRI Architectural Group and a team of highly specialized consultants, collaborated to create an innovatively designed building that defines a cutting-edge futuristic campus. This will be the first ground-up building that has been constructed by Full Sail. Orlando's LAMM & Company Partners will serve as the project's general contractor and construction manager.
"Over the years the projects that we have done in collaboration with Full Sail have consisted of over 300,000 sq. ft. of renovation, have employed more than 3,000 workers over time and represent a substantial investment in Orange County that serves to solidify Full Sail's role as one of the leading entertainment media universities in the world today," said Joshua Marinov, Vice President of LAMM & Company Partners. "This project alone will mean work for nearly 1,000 people through the various trades and supply chains."
The project begins at the main entrance, the Full Sail archway, and allows visitors to pass under an illuminated arch that leads to the Backlot area and Venue plaza, and the façade features a fluid exterior design of seamless sails. The WIFI equipped plaza includes hardscape architectural elements with bike trails and seating areas that feature a glow of evening LED lights, and will serve as a connecting place for students, staff and faculty.
The Full Sail Live Venue is a 22,000 sq. ft. acoustically engineered multi-purpose facility that features seating for 500 people, a moveable, demountable stage, and world class, audio and video equipment. A green room is provided for special guests and catering facilities are incorporated. Interior and exterior lighting has been specially designed to highlight the unique architecture of the building, and to enhance the ethereal experience of the plaza courtyard.
The building that houses the game production and recording studios is a two-story 10,600 sq. ft. space. The ground floor holds a full-size, flagship recording studio that incorporates recording technology and variable acoustic isolation areas that can be utilized by both students and professionals. The hallways feature oversized acoustic windows that will allow guests to easily view the recording process.
The second floor game production studio space will be created to duplicate all of the facilities common to a game studio. The space has areas designed for audio, graphic and technical development, as well as team meeting rooms and production offices. While working on final projects, students will experience the atmosphere associated with a professional studio environment.
Pete Ikegami, President of MRI Architects said, "Thirteen years ago we established a design relationship to create dynamic spaces that stimulate the minds of creative individuals utilizing economical materials and construction. Over the years and with over 700,000 square feet of projects on campus, we have refined our designs with each project becoming more exciting, and further evolving the unique architectural style of Full Sail University. This new project is the latest generation based on the original design mission, using simple concrete tilt-wall construction and a green building design approach."
The Hollywood-style Backlot portion of the project adds the final phase to complete the existing film Backlot that will now total 2078 linear feet. The new addition will be a 35' high expansion to the Amsterdam façade, which will be another environment area for students of Full Sail to use and enjoy. The Backlot will then offer 19 different outdoor locations designed to expand students' storytelling capabilities giving them flexibility and creative range for student projects, and currently features such iconic locations as the Seattle Fish Market, New Orleans' French Quarter, and New York City's Brownstones, as well as general locations such as a gas station, multiple urban and suburban storefronts, a Venetian-style bridge, and a studio water tower.
"Working with Full Sail on such projects as the Film Backlot, it is refreshing to see Full Sail using immersive, themed environments to complement and enhance the education of their students," said Bill Nassal, Partner, The Nassal Company. "This creative, outside of the box approach separates Full Sail from other institutions and provides an extraordinary value to the student experience."
Stella Posada, Full Sail University's Senior Vice President of Image & Design and Development further added, "We are extremely excited to break ground on this organic, fluid and futuristic design for our students, staff and faculty. As always, Full Sail has focused on creating distinctive spaces while being sensitive to the environment, and we are certain that this new addition will further enhance the already remarkable experience we strive to provide, and will offer a new venue to the Central Florida cultural landscape."
About Full Sail University:
Since 1979, Full Sail University, located outside of Orlando, FL, has been an innovative educational leader for those pursuing careers in the entertainment industry. With over 31,000 alumni, graduate credits include work on OSCAR®, Emmy® and GRAMMY®-winning projects, best-selling video games, and the #1 grossing U.S. concert tours. Full Sail's 190-acre campus and online education platform proudly welcomes over 6,500 students from 50 states and 65 countries.
Full Sail currently offers a total of seventeen degree programs including: Associate of Science Degrees offered in Graphic Design, Recording Arts and Show Production & Touring; Bachelor of Science Degrees offered in Computer Animation, Digital Arts & Design, Entertainment Business (online and on-campus), Film, Game Art, Game Development, Internet Marketing (online), Music Business and Web Design & Development; and Master of Science Degrees in Education Media Design & Technology (online), Game Design, Entertainment Business (online and on-campus) and Internet Marketing (online); and a Master of Fine Art in Media Design (online).
For more information about Full Sail, please visit fullsail.edu.
###