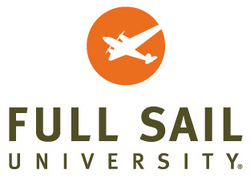 "We are excited for Mark to have the opportunity to share and exchange knowledge, while demonstrating the capabilities of technology from an environment that is as unique as the Amazon." said Dr. Holly Ludgate
Winter Park, FL (PRWEB) October 21, 2010
Full Sail University (fullsail.edu), an award-winning entertainment media institution, located in Winter Park, FL, is honored to recognize current graduate student, Mark Dohn, who has been selected as a member of the Education & Research Team for the impossible2Possible Expedition Amazon 2010 (jungle2010.com). The expedition will begin on October 20, 2010.
During the adventure, Dohn will join Ray Zahab, an established ultra marathoner and speaker, along with fellow i2P ambassadors and adventurers, and four i2P Youth Ambassadors on an incredible journey through the Tapajos National Forest. Trekking for up to 8 days through dense jungle, the youth ambassadors will set out to study and learn about the culture and biodiversity of the region, while using technology to share live streaming video reports, photos, and video journals of their experiences from the field with students around the globe. The adventure will be covered on BackStory, which airs on CNN International.
"We are excited for Mark to have the opportunity to share and exchange knowledge, while demonstrating the capabilities of technology from an environment that is as unique as the Amazon." said Dr. Holly Ludgate, Program Director of Full Sail's Education Media Design & Technology Master of Science degree, the program in which Dohn is currently enrolled.
In 2009, Dohn was recognized as an Apple Distinguished Educator and has been honored as one of the five most innovative teachers at integrating technology into the classroom by the Los Angeles Unified School District, where he was instrumental in designing and implementing a series of highly successful technology workshops for teachers. Dohn has spent the past thirteen years advocating for the integration of technology in education, and the development of the 21st century classroom.
About Full Sail University:
Since 1979, Full Sail University, located outside of Orlando, FL, has been an innovative educational leader for those pursuing careers in the entertainment industry. With over 34,500 alumni, graduate credits include work on OSCAR®, Emmy® and GRAMMY®-winning projects, best-selling video games, and #1 grossing U.S. concert tours. Full Sail's 191-acre campus and online education platform proudly welcomes over 12,400 students from 50 states and 49 countries.
Full Sail currently offers a total of 28 campus and online degree programs including: Associate of Science Degrees in Graphic Design and Recording Engineering; Bachelor of Science Degrees offered in: Computer Animation, Digital Arts & Design, Entertainment Business, Film, Game Art, Game Design, Game Development, Graphic Design, Internet Marketing, Music Business, Music Production, Recording Arts, Show Production, and Web Design & Development; Master of Science Degrees in Education Media Design & Technology, Game Design, Entertainment Business, and Internet Marketing; and Master of Fine Arts Degrees in Creative Writing and Media Design.
Full Sail was named the 2008 "School/College of the Year" by the Florida Association of Postsecondary Schools and Colleges. The university has also been previously named: The Harvard of Game Schools by Tips & Tricks Magazine; one of the top three New Media Schools by Shift Magazine (alongside the Massachusetts Institute of Technology and New York University); one of the Top Five Game Degree Programs in the world by Electronic Gaming Monthly; one of the Best Music Programs in the country by Rolling Stone Magazine; one of the Best Music Business Departments in the Schools That Rock: The Rolling Stone College Guide; and one of the Best Film Programs in the country by UNleashed Magazine.
For more information about Full Sail, please visit http://www.fullsail.edu.
###