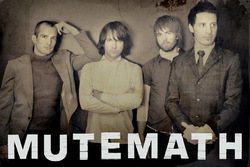 The #1 band you need to see live before you die
Winter Park, FL (PRWEB) May 28, 2010
Full Sail University (fullsail.edu) has just announced the addition of an exclusive performance by Teleprompt/Warner Bros. recording artists, MUTEMATH to the 2010 Hall of Fame event schedule. For more information on the new venue and Hall of Fame, please visit our press release.
On Wednesday, June 9, 2010, MUTEMATH will hold their concert for Full Sail University students, staff and faculty in the Full Sail Live venue, which is part of the new Full Sail Studios Gateway Project. This performance will conclude the three-day celebration that kicks off with the 2010 Hall of Fame induction ceremony on the morning of Monday, June 7.
MUTEMATH released their first EP in late 2004. By the time of their 2006 self-titled album debut, which blended their adverse genres into its own innovative sonically adventurous creation, it earned them the reputation as one of modern music's most daring young groups. By 2007, the group found themselves GRAMMY-nominated and declared by the Alternative Press as "The #1 band you need to see live before you die."
The Hall of Fame event will also welcome celebrity and industry friends of Full Sail and will include: Tionne "T-Boz" Watkins of the four-time GRAMMY-winning group, TLC, Deborah Gibson, Chris Kirkpatrick of N'Sync, Fred Schneider of The B-52's, Jeff Timmons of 98 Degrees, and The Superions.
About Full Sail University:
Since 1979, Full Sail University, located outside of Orlando, FL, has been an innovative educational leader for those pursuing careers in the entertainment industry. With over 34,000 alumni, graduate credits include work on OSCAR®, Emmy® and GRAMMY®-winning projects, best-selling video games, and #1 grossing U.S. concert tours. Full Sail's 191-acre campus and online education platform proudly welcomes over 8,800 students from 50 states and 57 countries.
Full Sail currently offers a total of 28 degree programs including: Associate of Science Degrees in Graphic Design and Recording Engineering; Bachelor of Science Degrees offered in: Computer Animation, Digital Arts & Design, Entertainment Business, Film, Game Art, Game Design, Game Development, Graphic Design, Internet Marketing, Music Business, Music Production, Recording Arts, Show Production, and Web Design & Development; Master of Science Degrees in Education Media Design & Technology, Game Design, Entertainment Business, and Internet Marketing; and Master of Fine Arts Degrees in Creative Writing and Media Design.
Full Sail was most recently named the 2008 "School/College of the Year" by the Florida Association of Postsecondary Schools and Colleges. The university has also been previously named: The Harvard of Game Schools by Tips & Tricks Magazine; one of the top three New Media Schools by Shift Magazine (alongside the Massachusetts Institute of Technology and New York University); one of the Top Five Game Degree Programs in the world by Electronic Gaming Monthly; one of the Best Music Programs in the country by Rolling Stone Magazine; one of the Best Music Business Departments in the Schools That Rock: The Rolling Stone College Guide; and one of the Best Film Programs in the country by UNleashed Magazine.
For more information about Full Sail, please visit http://www.fullsail.edu.
###