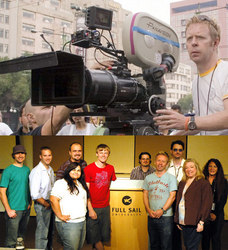 School/College of the Year
Winter Park, FL (PRWEB) October 29, 2009
Full Sail University (http://www.fullsail.edu), in co-presentation with Indiefest '09, recently welcomed Hollywood Film Director, Pete Travis to its campus to speak with students and to show an exclusive screening of his latest film, Endgame, starring William Hurt.
Travis is most known for his work as a director on the film, Vantage Point, featuring Dennis Quaid, Forest Whitaker, Sigourney Weaver and Matthew Fox. The film was directed for Sony Pictures and was number one in the U.S. box office on its opening weekend on February 2008, and to date, the film has grossed more than $150 million worldwide. Throughout his career, Travis' work has won a Discovery Award, a BAFTA Television Award, and he personally was nominated for the Irish Film and Television Award for Best Film Director.
"To have an accomplished director such as Pete Travis on the Full Sail University campus to spend time with our students and share a private viewing of his latest work was an amazing experience for students and staff alike," said Jamey Hopper, Full Sail University Lead Film Advisor in the Career Development Department. "Pete provided incomparable insight into his history as a director and offered valuable first-hand industry knowledge to prepare students for their career journeys. We look forward to all of Pete's future work and his hopeful return to our campus."
About Full Sail University:
Since 1979, Full Sail University, located outside of Orlando, FL, has been an innovative educational leader for those pursuing careers in the entertainment industry. With over 33,000 alumni, graduate credits include work on OSCAR®, Emmy® and GRAMMY®-winning projects, best-selling video games, and the #1 grossing U.S. concert tours. Full Sail's 191-acre campus and online education platform proudly welcomes over 8,000 students from 50 states and 57 countries.
Full Sail currently offers a total of 25 degree programs including: Associate of Science Degrees in Graphic Design; Bachelor of Science Degrees offered in: Computer Animation, Digital Arts & Design, Entertainment Business, Film, Game Art, Game Design, Game Development, Graphic Design, Internet Marketing, Music Business, Recording Arts, Show Production, and Web Design & Development; and Master of Science Degrees in Education Media Design & Technology, Game Design, Entertainment Business, and Internet Marketing; and a Master of Fine Art in Media Design.
Full Sail was most recently named "Best Company" in the 2009 Orlando Business Journal's Reader's Choice Awards, as well as the 2008 "School/College of the Year" by the Florida Association of Postsecondary Schools and Colleges. The university has also been previously named: The Harvard of Game Schools by Tips & Tricks Magazine; one of the top three New Media Schools by Shift Magazine (alongside the Massachusetts Institute of Technology and New York University); one of the Top Five Game Degree Programs in the world by Electronic Gaming Monthly; one of the Best Music Programs in the country by Rolling Stone Magazine; one of the Best Music Business Departments in the Schools That Rock: The Rolling Stone College Guide; and one of the Best Film Programs in the country by UNleashed Magazine.
For more information about Full Sail, please visit http://www.fullsail.edu.
###