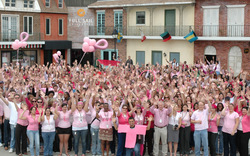 It is an honor for Full Sail to participate in Pinktober Day
Winter Park, FL (PRWEB) October 17, 2009
Today, Full Sail University (fullsail.edu), gathered nearly 500 Full Sail students, staff, and faculty wearing pink, in addition to the hundreds on campus wearing pink throughout their 24-hour class rotations and office schedules, in support of national breast cancer awareness month and the city of Orlando's declaration of October 16 as "Pinktober Day."
Created by the Orlando Clear Channel radio station, XL 106.7, Pinktober encouraged universities, corporations, political officials, media personalities, and Central Florida residents throughout the city, to all wear pink to honor and commemorate this day of awareness. The American Cancer Society states that more than 192,000 women were diagnosed in 2009 with a new case of invasive breast cancer, and nearly 2,000 men diagnosed as well.
"It is an honor for Full Sail to participate in Pinktober Day," said Garry Jones, President of Full Sail University. "To support all who have suffered from breast cancer within our Full Sail family and the thousands beyond, is deeply important to our campus. We proudly stand by the many corporations, organizations and individuals who are wearing pink on this day, and hope to further the attention within the Central Florida region and worldwide."
About Full Sail University:
Since 1979, Full Sail University, located outside of Orlando, FL, has been an innovative educational leader for those pursuing careers in the entertainment industry. With over 33,000 alumni, graduate credits include work on OSCAR®, Emmy® and GRAMMY®-winning projects, best-selling video games, and the #1 grossing U.S. concert tours. Full Sail's 190-acre campus and online education platform proudly welcomes over 7,000 students from 50 states and 57 countries.
Full Sail currently offers a total of 25 degree programs including: Associate of Science Degrees in Graphic Design; Bachelor of Science Degrees offered in Computer Animation, Digital Arts & Design, Entertainment Business, Film, Game Art, Game Design, Game Development, Graphic Design, Internet Marketing, Music Business, Recording Arts, Show Production, and Web Design & Development; and Master of Science Degrees in Education Media Design & Technology, Game Design, Entertainment Business, and Internet Marketing; and a Master of Fine Art in Media Design.
Full Sail was most recently named the 2008 "School/College of the Year" by the Florida Association of Postsecondary Schools and Colleges. The university has also been previously named: The Harvard of Game Schools by Tips & Tricks Magazine; one of the top three New Media Schools by Shift Magazine (alongside the Massachusetts Institute of Technology and New York University); one of the Top Five Game Degree Programs in the world by Electronic Gaming Monthly; one of the Best Music Programs in the country by Rolling Stone Magazine; one of the Best Music Business Departments in the Schools That Rock: The Rolling Stone College Guide; and one of the Best Film Programs in the country by UNleashed Magazine.
For more information about Full Sail, please visit http://www.fullsail.edu.
###