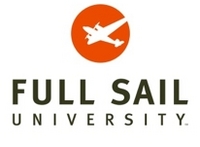 The combination of front-end design and deployment techniques makes this online degree one of the most ambitious online web offerings out there
Winter Park, FL (Vocus) April 16, 2009
Full Sail University (http://www.fullsail.edu ), an award-winning entertainment media institution near Orlando, FL, is expanding the availability of its Web Design & Development Bachelor of Science Degree Program into a new online degree, beginning in May 2009.
The new Bachelor's degree will offer students the real world education that has defined Full Sail for the past 30 years as an educational leader in the entertainment industry. The program incorporates courses that teach students front-end web design, using both design and aesthetics techniques, along with the programming and coding skills they need to succeed in the industry.
In addition, students will complete a degree capstone where they will learn how to design and deploy a fully functioning, cross-platform website using industry-standard disciplines such as interface design and usability, web standards, client scripting and search engine optimization.
The fully featured online degree program is designed to give students the skills and experience needed to develop their careers in the industry. With the Internet's cultural prominence at an all-time high, the exciting field of web design and development is in need of individuals with the ability to not only design the websites, but also make them engaging and intuitive to use.
"The combination of front-end design and deployment techniques makes this online degree one of the most ambitious online web offerings out there," said Bill Bain, Web Design & Development Program Director. "Students are getting an incredible skill set in one program."
About Full Sail University:
Since 1979, Full Sail University, located outside of Orlando, FL, has been an innovative educational leader for those pursuing careers in the entertainment industry. With over 31,000 alumni, graduate credits include work on OSCAR®, Emmy® and GRAMMY®-winning projects, best-selling video games, and the #1 grossing U.S. concert tours. Full Sail's 190-acre campus and online education platform proudly welcomes over 6,500 students from 50 states and 65 countries.
Full Sail currently offers a total of 20 degree programs including: Associate of Science Degrees offered in Graphic Design, Recording Arts and Show Production & Touring; Bachelor of Science Degrees offered in Computer Animation, Digital Arts & Design, Entertainment Business, Film, Game Art, Game Development, Internet Marketing, Music Business and Web Design & Development; and Master of Science Degrees in Education Media Design & Technology, Game Design, Entertainment Business, and Internet Marketing; and a Master of Fine Art in Media Design.
Full Sail was most recently named the 2008 "School/College of the Year" by the Florida Association of Postsecondary Schools and Colleges. The university has also been previously named: The Harvard of Game Schools by Tips & Tricks Magazine; one of the top three New Media Schools by Shift Magazine (alongside the Massachusetts Institute of Technology and New York University); one of the Top Five Game Degree Programs in the world by Electronic Gaming Monthly; one of the Best Music Programs in the country by Rolling Stone Magazine; one of the Best Music Business Departments in the Schools That Rock: The Rolling Stone College Guide; and one of the Best Film Programs in the country by UNleashed Magazine.
For more information about Full Sail, please visit http://www.fullsail.edu .
Contact:
Tyler Garner
Public Relations Coordinator
407-679-0100, ext. 5926
407-551-2057 (fax)
tgarner(at)fullsail.com
Kristin Weissman
Director of Public Relations
407-679-0100, ext. 5908
407-252-1179 (cell)
kweissman(at)fullsail.com
###