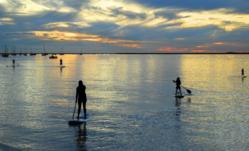 Only $29.99 Per One Hour Stand Up Paddle Board Rental with TripShock.com!
Destin, FL (PRWEB) July 05, 2012
Travel agency TripShock.com offers various activities, attractions and even discounted hotels this summer in Destin, Florida. Destin is home to some of the worlds most beautiful beaches, stunning emerald coast waters, and a mass array of shopping and local dining restaurants. Let TripShock.com introduce the perks of Destin with adventurous activities, attractions and local experiences the entire family can enjoy.
Live a little and experience Destin in a whole new perspective. View the Destin Gulf from a birds eye view via Destin Parasailing.For a limited time only, Parsailing Adventures in Destin are Only $45.00 Per Person. Don't miss out on this fantastic summer special, book online today at TripShock.com.
Stand up paddle boards have been the hottest activity to hit the Emerald Coast in the recent years. Experience the life of a Destin local by riding a few waves or just cruise around the Gulf. Stand Up Paddle boards are great for all ages and make for a fun filled beach day. TripShock.com offers One Hour Rentals for as low as $29.99 Per Stand Up Paddle Board. Book online today and receive Free Instruction with each rental.
For those looking for a last minute spontaneous adventure, check out Destin Helicopter Tours on TripShock.com. Enjoy the adventure and thrill of a Heli-Tour while overlooking Destin's beautiful sandy white beaches, emerald green waters and a variety of wild marine life below. Prices start as low as $49.99 Per Person. When purchased online, customers can receive Up To $10 Off Destin Helicopter Beach Tours. Visit TripShock.com today for specific prices and booking details.
About TripShock.com
TripShock! ® is the one and only online travel agency in the Northern Gulf Coast that enables travelers to book tours and activities directly. TripShock! offers trusted reviews from real travelers, photos, videos and other planning tools to help create the perfect Gulf Coast vacation. TripShock! attracts more than 500,000 visitors annually and partners with over 100 activity and lodging providers from Florida to Louisiana.