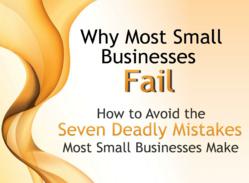 I'm trying to make a difference. If this book saves one family from financial ruin, I consider that a success.
Nashville, TN (PRWEB) June 29, 2011
Functional Marketing LLC, a strategic marketing company that works with US and international clients, is providing a free eBook titled "Why Most Small Businesses Fail: How to Avoid the Seven Deadly Mistakes Most Small Businesses Make." This 40 page eBook is loaded with valuable information for entrepreneurs and small business owners. The eBook explains that 25 percent of small businesses fail within their first year, and 50 percent fail within five years. It also explains the most common mistakes leading to business failure and how to avoid these mistakes. Beyond the seven deadly mistakes, it describes how to solve 19 specific problems in operations, finance and marketing.
Readers of the eBook will discover how to make the dramatic mind shift needed to be successful in their business. According to CEO Dave Smith, "Many people who start a business just don't understand the fundamentals. The biggest problems stem from wrong beliefs about starting and running a business. It's not enough to have a good product and work hard. You have to work hard on the right things."
The free eBook, "Why Most Small Businesses Fail", is available for immediate download by subscribing to Functional Marketing's free Marketing Mix Newsletter. This free email newsletter is filled with practical small business marketing ideas and concepts that will help sustain small businesses. The newsletter contains how-to articles about marketing and other business topics, new product announcements, subscriber discounts on products and contest announcements.
When asked why Functional Marketing is giving away this eBook, CEO Dave Smith responded, "Our economy is powered by the middle class and by small businesses. In today's economy, many people can't find a job. They start a home based business because they are running out of options. Most of those businesses will fail because they were started without the proper planning, focus, and resources in place for success. I'm trying to make a difference. If this book saves one family from financial ruin, I consider that a success."
Functional Marketing, which specializes in business strategy and marketing strategy consulting, has a unique approach to helping clients. Most consulting companies charge by the hour. Functional Marketing avoids hourly billing, preferring instead to be paid for the results it produces. This approach allows clients to work with Functional Marketing without risk. Smith explains, "We remove the barrier to working with us by eliminating the risk for our clients. The people who need our help can't afford to pay up front. We know that, so we use an agreement where we are paid after we produce results. It keeps us and our clients focused on results instead of watching the clock."
The results can be huge. More customers, more margin per customer, and reduced marketing and operational costs all lead to more sales and big profits. Functional Marketing's clients achieve greater business success and personal success because of the methods used to achieve results. They start with the potential locked in the client's "personal assets". These assets include time, energy, knowledge and personal strengths. Then they move on to the potential trapped in business assets, which include customers, products, and suppliers.
About Functional Marketing LLC:
Functional Marketing was started in late 2010 by Dave Smith. The company helps small businesses and entrepreneurs succeed using excellent business and marketing strategies, action-focused marketing plans and business joint ventures. The Functional Marketing website offers a wealth of free information. Functional Marketing provides a 100 % satisfaction guarantee for its customers.
For more information about Functional Marketing LLC visit http://www.functional-marketing.com
To download the free eBook visit http://www.functional-marketing.com/get-the-book