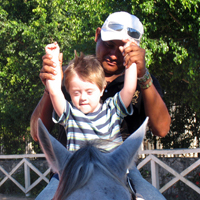 "It's wonderful to be able to participate in this type of program and join this work that helps improve the quality of life of children."
Riviera Maya, Mexico (PRWEB) July 4, 2010
Children from the Mexican Caribbean spend a special weekend with their families and Mexican actors Arturo Carmona and Ferdy Valencia with activities organized through the program "If You Dream It, You Can Achieve It" organized by Hacienda Tres Ríos Resort and Fundación Televisa.
After spending the day riding horses in an Equine Therapy session at Hacienda Andalucia, the children and their families participated in the different activities at Tres Ríos Nature Park. The actors and children took strolls through the nature park, discovered the rivers at the resort on board kayaks and took part in the exclusive SenseAdventure tour offered by the eco-friendly resort in the Riviera Maya.
The actors from the Mexican soap operas Mar de Amor and Hasta Que el Dinero nos Separe arrived to the Mexican Caribbean and attended the Equine Therapy session with a group of 16 children with special needs. Hosted by Hacienda Andalucia—another property of Sunset World—the trip was the first for the program "If You Dream It, You Can Achieve It."
The actors spent quality time with the children and helped in their therapy session with the horses, a service offered by Hacienda Andalucia to children in support of the local community. The families and children posed for pictures with the actors and received special gifts from Carmona and Valencia.
Carmona and Valencia also planted mangrove trees in the Tres Ríos Nature Park reforestation area at the Riviera Maya resort. The actors signed the Hacienda Tres Ríos Distinguised Guest Gold Book moments before departing to Mexico City.
"It's wonderful to be able to participate in this type of program and join this work that helps improve the quality of life of children," pointed out the former Big Brother participant, Carmona, and indicated his interest to return to help with the Dream program.
About Hacienda Tres Rios
Nestled in a 326-acre pristine nature park in Mexico's Riviera Maya, Hacienda Tres Ríos is an endless luxury, all-inclusive resort in the Mexican Caribbean only 45 minutes south of Cancun International Airport. Opened in November 2008, Hacienda Tres Ríos is the first resort of five at Tres Ríos Nature Park. The resort boasts 273 suites constructed using natural materials. At the forefront of sustainable tourism development, Hacienda Tres Ríos creates amazing guest experiences while continuing to protect the region's natural beauty and cultural heritage. The Tres Ríos Nature Park is open exclusively to resort guests, and offers guided nature tours through mangrove forests, snorkeling in cenotes and rivers, and daily activities for children. For more information, visit http://www.tres-rios.com/pressroom
###