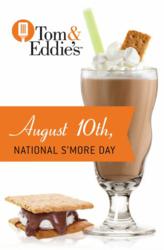 "We're planning to have fun with National S'more Day," said Ed Rensi, co-founder of Tom & Eddie's. "We ask residents to come in for a S'more milkshake with lunch or dinner, so we can help the scouts in a big way."
Lombard, IL (PRWEB) August 03, 2012
National S'more Day is Friday, Aug. 10, and Tom & Eddie's will recognize the day by donating 10 percent of S'more shake sales to the Girl Scouts and Boy Scouts of America.
Why Girl Scouts and Boy Scouts? It is believed that Girl Scouts are the inventors of the S'more sometime in the 1920s. Girl Scouts spent a lot of time around a campfire, and the S'more came from a random food experiment. Not long after, S'mores became a campfire tradition with Girl Scouts and Boy Scouts. The name, experts believe, came from scouts saying, "Gimme some more!"
Also on Aug. 10, Tom & Eddie's will serve free S'more desserts to "kids" age 65 and under. That means everyone.
Tom & Eddie's S'more milkshake was created by 8 year old Jordyn Dane of Deerfield as part of a contest to see which Deerfield school could come up with the winning shake. Jordyn won, and her S'more shake proved so popular with customers, it was put on the menu at all four Tom & Eddie's locations.
"We're planning to have fun with National S'more Day," said Ed Rensi, co-founder of Tom & Eddie's. "We ask residents to come in for a S'more milkshake with lunch or dinner, so we can help the scouts in a big way."
Tom & Eddie's provides its customers with fresh, never frozen, 100 percent premium Angus gourmet burgers, personal customer service, catering service and a relaxed and happy dining experience. Locations are in Lombard, Geneva, Deerfield, Vernon Hills and coming soon - Naperville.
For more information about Tom & Eddie's, visit: http://www.tomandeddies.com.