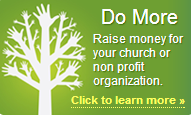 Raise easy money for your church, simply by buying things you already buy (7% cash back)!
Chicago, IL (PRWEB) October 24, 2012
Times are tough, and churches are not immune to financial problems. With that in mind, ChristianBooksBibles.com has created a fundraising program that gives churches and non-profit organizations 7% cash back on over 150,000 Christian resources in our online Christian bookstore.
The fundraiser program is aimed at getting organizations more money for the things that matter to them. The program is perfect for missions trips, youth group retreats, evangelism funds, and more. In addition, non-profit organizations can utilize the program to create additional revenue.
So, how does it work? Upon signing up (free), a fundraiser ID is generated. Each time the code is used in our store, 7% of the sale goes to the fundraiser. Fundraising cards that have your information on them, are also provided, so you can spread the word about your fundraiser. To give people incentive to use the codes, they get free shipping over $25! It is a win/win!
Ready to apply? Sign up here!