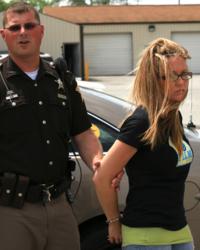 Leah Hoskins, founder of F.I.L.M. is involved in everything, including fund-raising!

Marion, IN (PRWEB) June 19, 2012
On June 20th volunteers for The F.I.L.M. Project will be arrested by off duty officers and locked up and held behind bars until $25,000 in bail has been posted. Every dollar of the bail raised will go towards supporting the organization.
Family Images for Lasting Memories (F.I.L.M.) donates professional family portraits to cancer patients through a network of national volunteers nationwide. They're professional photographers who believe by sharing their gifts of portraiture they can inspire healing and create very special lasting memories for the families during their most fragile times.
"There are lots of creative ways to raise funds for a non-profit like ours, but "Jail and Bail" has been one of our most fun and seems to really get everybody involved! We're counting on our 600 members to come through and make sure I don't grow too old waiting for a release date!" commented Hoskins, who's getting ready for a hopefully short stay in the county jail!
And like most great fundraisers, F.I.L.M. has secured some outstanding prizes for photographers willing to donate to this year's Jail and Bail including a full scholarship to Skip's Summer School, the premiere educational event in professional photography, a three download video set from creativeLIVE, the leading online educational workshop series and a one year membership to SmugMugPro with a website customization. For the latest information on Jail and Bail give-aways stay tuned to The F.I.L.M. Project's latest blog posts.
About The F.I.L.M. Project
The project was founded by Leah Hoskins in 2011 after losing a young friend to Cancer. Since then the organization has grown to 600 members with a national following. For more information on both the jail and bail fundraiser as well as getting directly involved helping F.I.L.M. contact Leah Hoskins at 800-643-0353 or lhoskins(at)thefilmproject(dot)net.