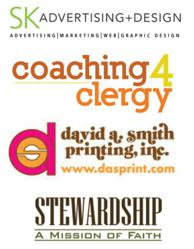 "These new relationships will help us provide unique capabilities, added value, and quality service to our clients," said C. Eugene Musser, President and CEO of Kirby-Smith Associates.
Lancaster, PA (PRWEB) July 13, 2011
Kirby-Smith Associates (http://www.kirbysmith.com,) a leader in fundraising and capital campaigns for Christian churches and schools since 1938, today announced several new strategic partnerships that will further increase Kirby-Smith's value to clients.
SK Advertising+Design (http://www.skadv.com), Coaching4clergy (http://www.coaching4clergy.com), and David A. Smith Printing (http://www.dasprint.com) have joined the Kirby-Smith team to provide additional value-added services to Christian churches, judicatories, and Christian schools.
Over the last four decades SK Advertising+Design, a full-service marketing, advertising, website design & development, and package design agency has grown into a company with a national reputation for its expertise and professionalism. SK Advertising works with both for-profit and not-for-profit groups. They provide high-end graphic and printed material, innovative designs for campaign support, as well as website design and hosting for local churches, community-based organizations, and businesses. The company is also well-known for its work in packaging design and marketing for businesses of all kinds.
Since borrowing $50 from his grandfather in 1966 to purchase a small printing press, David A. Smith has served corporate, non-profit, and government customers in all 50 states. The business has expanded to include providing novelty materials and unique support materials that help establish brand awareness. David A. Smith provides printed material and other items that support campaigns.
Coaching4clergy, founded by J. Val Hastings, MCC, empowers spiritual leaders through coaching, consulting, and coach training. He has a global vision to provide coaching and coach training to all of today's spiritual leaders. According to Rev. Hastings, "A coaching approach to the ministry can have a tremendous impact on the leaders of our faith communities and on the larger communities that we serve. At its core, coaching is about empowering others." Val is also the Founder of Coaching4BusinessLeaders.
SK Advertising+Design, David A. Smith Printing, and Coaching4clergy join with Stewardship: A Mission of Faith (http://www.stewardshipmission.org,) and FPS Wealth Strategies to supplement Kirby-Smith Associates' Planned Giving services as Strategic Partners of Kirby-Smith Associates.
David Abel, the founder of Stewardship: A Mission of Faith," said that through an experience in 2004, "I discovered that EVERYTHING we have is a gift from God that we are to use to help others." Because of that life-changing awareness, David embarked on the mission of helping others experience living as stewards.
Stewardship: A Mission of Faith offers targeted resources for church communities, leadership, youth, seniors, and gospel reflection groups.
The "Spiritual Exercise of Wealth" workshops were developed by Don Gleichman, Founder and President of FPS Wealth Strategies, Inc. Gleichman, a nationally recognized financial speaker, and educator uses a proprietary, three-dimensional process to assist clients in creating a legacy based on Financial wealth (what we have), Personal wealth (who we love), and Social wealth (the people, institutions, and causes we care deeply about).
"These new relationships will help us provide unique capabilities, added value, and quality service to our clients," said C. Eugene Musser, President and CEO of Kirby-Smith Associates. "Our vision is to help the local churches we serve grow. We serve churches that need assistance in growing their building, growing their offering, and growing their people," said Musser. "We believe it sets us apart from the competition and provides our clients with opportunities and other quality resources that can assist their growth."
Since 1938, Kirby-Smith Associates, Inc. has assisted more than 15,000 churches to raise more than $5 billion for ministry, new buildings, building renovations, and debt service. Kirby-Smith Associates offers a full range of fundraising and financial programs and services including Capital Campaigns, Stewardship Training, Annual Appeals, Vision Development, Increased Offertory Program, Strategic Planning, Feasibility Studies, Parish Planning, Analysis for Growing Your Church, Church Growth Workshops, Memorial and Gift Programs, How to Be a More Welcoming Church, Hospitality Workshops, Stewardship Through Education Program (STEP©), Church Building Workshops, and Planned Giving Workshops.
Kirby-Smith Associates is headquartered in Quarryville, PA with senior representatives located throughout the country.
###