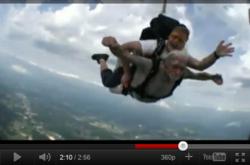 The only thing cooler than a 90 year old jumping out of an airplane, is that he made a website and turned it into an online fundraiser.
Montreal, Quebec (PRWEB) December 01, 2011
MyEvent.com a pioneer of do-it-yourself event websites announced today the results of their inaugural video contest. Members of MyEvent.com were encouraged to create and upload a video that would describe their experiences on MyEvent.com and the winner would win $5000. 4 other videos were also selected for packages valued at $500.
Company president Rob Hirscheimer said they were thrilled with the amount of entries they received and with the creativity of their customers. "The only thing cooler than a 90 year old jumping out of an airplane for his local food bank, is the incredible video that his friend made describing the whole thing. We were also brought to tears by Kenza Kadmiri who wrote and performed an original song about how MyEvent.com has helped her fundraise online so she could hopefully walk again one day."
The 4 winners who won MyEvent.com packages worth $500 were:
Ben Gottesman made a website for his friend Aaron Rosloff who decided to go parachuting from 10,000 feet on his 90th birthday and raise money for a local charity at the same time. The video was made by his friend Sam Kfare.
Noah Hoffe demonstrated to his parents at a very early age (2 1/2 years old!) that he wanted to help kids less fortunate than himself. His family decided they would raise money online to be able to pay for a well in a third world country.
Katherine Mierza made a reunion website for her high school reunion to celebrate her 60th birthday with her friends from high school.
Shira Grunfeld made a website to raise money for her friend Heather who was diagnosed with Leukemia. They raised $10,000 in one month and the site was a great source of support for Heather and her family.
The first prize worth $5000 went to Kenza Kadmiry who made a website to raise money online so she could one day walk again. She wrote and performed a song about MyEvent.com on her original video.
Click here to see other videos that entered the MyEvent.com video contest.
About MyEvent.com
MyEvent.com has been offering affordable, easy to use DIY websites to individuals, businesses and nonprofit organizations since 2002. MyEvent.com websites come with special features to help plan and manage events, including seamless ecommerce features that facilitate online fundraising without a merchant account. For more information, visit MyEvent.com for a 7 day free trial or call 1-877-769-3836.
# # #